About the BUS Table
The table brings together EcoShape partners and guest organizations with a shared ambition of mainstreaming and maximizing the beneficial (re)use of sediments towards 100% reuse, through Building with Nature.
Beneficial Use of Sediments is defined by CEDA and PIANC as: "The use of dredged or natural sediment in applications that are beneficial and in harmony with (human and natural) development, as opposed to waste it at sea or store it in a remote deposit forever."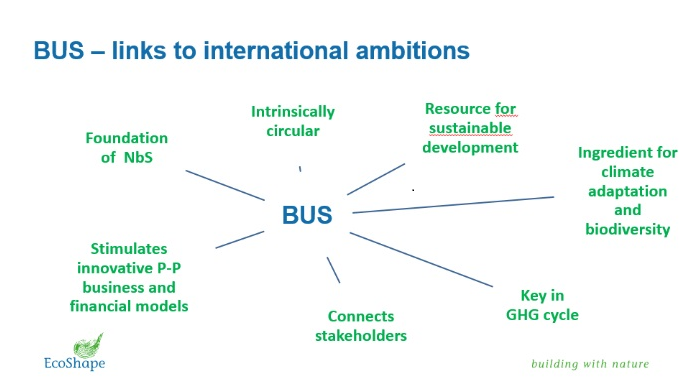 Primary Purpose
The table will focus on both sand and mud with links to ecobiology and water. The thematic focus of the table currently is:
Dike strengthening and realignment
Counteracting subsidence
Salt marshes and wetland development and restoration
Navigation infrastructure maintenance
GHG (NOx) emissions and sequestration opportunities
With a clear thematic scope, the table will cover all six EcoShape enablers, with focus on mainstreaming. Topics such as cost and finance, institutional embedding and legislation will be streamlined with engineering science and technique.
Ambitions and Key Factors
The general ambition is to mainstream and to maximize the beneficial (re)use of sediments towards 100% reuse, through BwN. We intend to create a community of partners to enable co-creation of opportunities to achieve this ambition.
Key factors:
Implementation cases of BUS (beyond technique)
Link BUS implementation with bigger picture ambitions (e.g. GHG / climate neutrality; biodiversity; circularity)
Creation / contribution to specific large programs
Link NL – International
Influence legislation and tenders to incorporate BUS
Tracks and Projects
Current projects:
NWO Hedwige Polder (lead: TUDelft): 2021-24 (dike realignment and erosion)
KIEM (lead: HAN): 2021 (desalination of dredge sediments)
Meegroeidijk Fase 1 (lead: STOWA): 2021 (thin lift placement of dredge sediment on dike – feasibility)
Clay Ripener (lead: Provincie Groningen): 2017-22 (ripening salty dredge sediments in clay soil for dikes)
Proposals:
EU Green Deal 7.1 (lead: U Catalunia): Pr – 2022-25 (ecosystem restoration and GHG from BUS)
NWO Sediment to Soil (lead: TUDelft): Pr – 2021-24; (ripening and geochemichemistry in BUS)
Opportunities:
Brede Groene Dijk (lead: waterschap Hunze en Aa's) – 2022-24 (use of ripened clay in dike)
Marconi follow-up (lead: EcoShape): 2022-25 (salt marsh development)
Meegroeidijk Fase 2 (lead: STOWA): 2022 – 23 (thin lift placement of dredge sediment on dike – field experiment)
Status
The table is under organization. A kick-off meeting was held in May 2021. If you are interested in contributing to this table, please contact us.
Resources
Contact