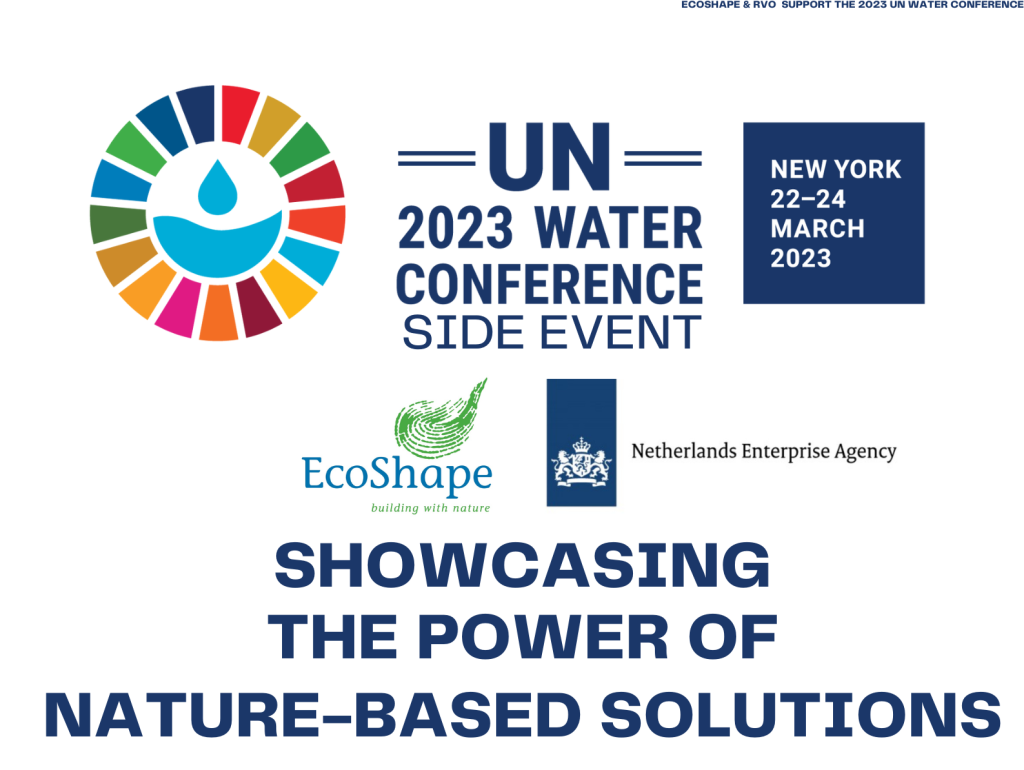 Side-event UN Water Conference: The Power of Nature Based Solutions and launch of the coalition for mainstreaming NBS
Six enablers for successful implementation
Date: Thursday, March 23, 2023 from 3:00 p.m. – 5:00 p.m.
Location: New York Water House, 666 Third Avenue 21st floor, New York
For registration scroll to the bottom of this page
Ambitious about Nature Based Solutions? Join us in this panel discussion to learn about the key success factors of implementing NBS!
In this session we will discuss Nature-based Solutions for water-related projects. We will showcase projects where NBS provide flood protection harnessing the power of nature, and deliver additional benefits, such as nature restoration, cleaner water and space for recreation. Unlike more traditional 'grey' infrastructure, NBS are easily adaptable to changes in the environment caused by climate change, such as rising sea levels or increased rainfall and can provide social and economic benefits to the community.
Implementation and upscaling of NBS
Until now, implementation of NBS is still limited, even though they are part of international agreements such the European Green Deal and the UN Global Biodiversity Framework.
During the session, experts with different backgrounds share their views on the barriers and limitations of NBS, but also the enablers to make NBS a widely accepted and applied solution for societal issues in the water sector in 2030 (see for instance the EcoShape Enablers).
Questions our panel will address are: What have we learnt from NBS in the past years? What is necessary for implementation of NBS in terms of governance and institutional embedding? How to manage and monitor a NBS project?
In the last part of our session we will launch the coalition for mainstreaming NBS.
Programme
3:00 pm Opening and introduction to the session by host Erik van Eekelen, director of EcoShape
3:10 pm Panel discussion with NBS practitioners:
Boris van Zanten – Disaster Risk Management Specialist and Co-lead of WB Global NBS Program
George Peters – Global Director Climate Resilience at Royal HaskoningDHV
Matthijs Boersema – International Program Manager NBS at Rijkswaterstaat and USACE-IWR.
Edgar Westerhof – North America Solution Leader for Climate Adaptation, Vice President at Arcadis
Viviana Franco – Sustainability Project Lead at Van Oord
Each panellist presents an NBS case and explains the enablers, best practices and barriers in the case, followed by a discussion between the panellists.
3:40 pm Presentation of the UN World Restoration Flagship project Building with Nature Indonesia by Jane Madgwick, Chief Executive Officer of Wetlands International.
3:50 pm Panel discussion with institutional representatives:
Yang Villa – Asia Pacific Water Resilience Hub Manager, Asian Development Bank (ADB) and IWA-Grundfos Youth Action for SDG6 Fellow
Robyn Colosimo – Deputy Assistant Secretary of the Army (Project Planning and Review) – U.S. Army Corps of Engineers
Bart Geenen – Director Thematics WWF Netherlands
Lara Muller – Director Public Sector, Invest International
Dennis van Peppen – Lead International Water programmes, RVO, Netherlands Enterprise & Development Agency
Erik asks each panellist to reflect on how they could support or contribute to the enablers for NBS projects, mentioned in the first round.
4:20 pm Wrap up and concluding remarks
Coalition for Mainstreaming NBS
4:30 pm – 5:00 p.m Launch of the Coalition for Mainstreaming Nature Based Solutions and commitment on the UN Water Action Agenda.
Read more about the Coalition for Mainstreaming NBS.
5:00 pm Closing of the session
Session outcome
After this event you will know more about what it takes to develop and implement a successful NBS project and the benefits of NBS. You will learn how NBS can be the game changer in the achievement of the Sustainable Development Goals. We invite you to join our efforts to mainstream NBS and therewith contribute to the Water Action Agenda together with us.
Excited to join us? Register now below!
*In-person event only
Register for our side event
Learn more about the event