Overview
Location: Demak District (near Timbul Sloko), Northern Java, Indonesia
Date: 2015 – 2020
Involved parties: Building with Nature in Indonesia is a programme from Ecoshape, Wetlands International, the Indonesian Ministry of Marine Affairs and Fisheries (MMAF), the Indonesian Ministry of Public Works and Housing (PUPR), Witteveen+Bos, Deltares, Wageningen University & Research, UNESCO-IHE, TU Delft, Von Lieberman, Blue Forests, Kota Kita, Diponegoro University, and local communities.; Supported by Dutch Sustainable Water Fund, The German Federal Ministry for the Environment, Nature Conservation and Nuclear Safety (BMU) as part of the International Climate Initiative (IKI), Waterloo Foundation, Otter Foundation, Topconsortia for Knowledge and Innovation Mangroves for the Future, and with contributions by all partners.
Technology Readiness Level: 7 System being tested in actual conditions at relevant location
Environment: Tropical shores
Keywords: coastline, mangrove, restoration, muddy shore, erosion, community, resilience, aquaculture, multi stakeholder approach, land subsidence, sustainable aquaculture, permeable structures, self-supportive
Building with Nature design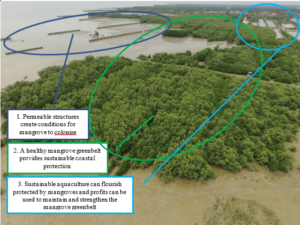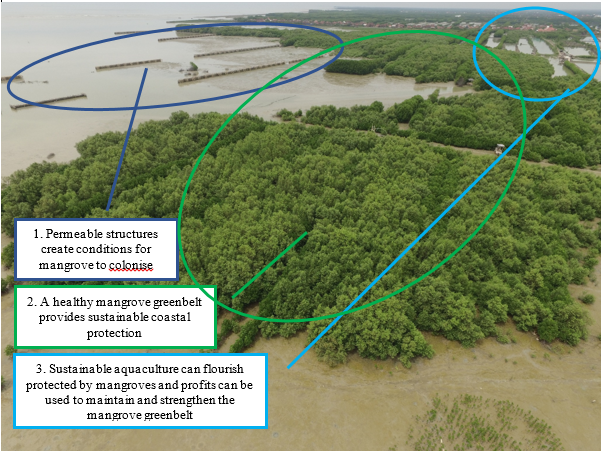 A sustainable solution for a safe and productive coastline.
Using the "Building with Nature" approach, green (nature-based) solutions, such as mangrove restoration, are combined with grey (hard-engineering) techniques such as permeable structures. In this way use is made of the power (services) of nature instead of fighting against it. With this innovative approach stable (restored) mangrove coastlines are built that reduce flood risk, erosion and saline intrusion and can adapt to sea level rise. Simultaneously a multi-stakeholder approach is taken for the introduction of sustainable multi-functional land uses (in particular sustainable aquaculture), that enables inclusive economic growth once the coastline is stable.
Traditional design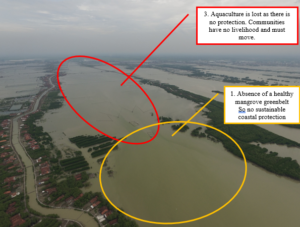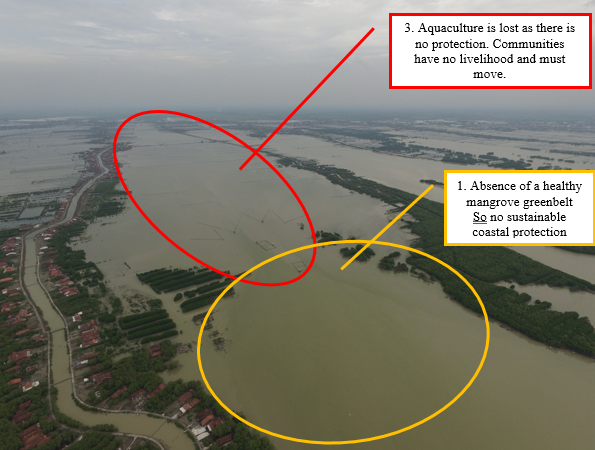 Dams and sea walls as a single solution, are ineffective in muddy coasts. Hard structures like dams and sea walls have proven to be ineffective as a single solution along rural mud-coasts and often exacerbate erosion. They also tend to be expensive and unstable as they are incapable of adapting to climate change. Furthermore, they fail to provide the vital economic, environmental and social services that healthy mangrove belts provide.