Construction
Pre-grown cord grass mats were provided by Nautilus–Ecociviel . Installation of the mats at the three test locations was done by NIOZ, IMARES and Nautilus–Ecociviel.
The company Nautilus-Ecociviel grew Spartina plants in mats of coconut fibre and grew them for 1.5 years in freshwater basins, as no salt water basins were available (Figure 1). Nautilus-Ecociviel has experience with the growing of freshwater and brackish water littoral plants in coconut fiber mats (Aqua-Flora Filter Mats type FM15). Plant density was about 10-14 per m2.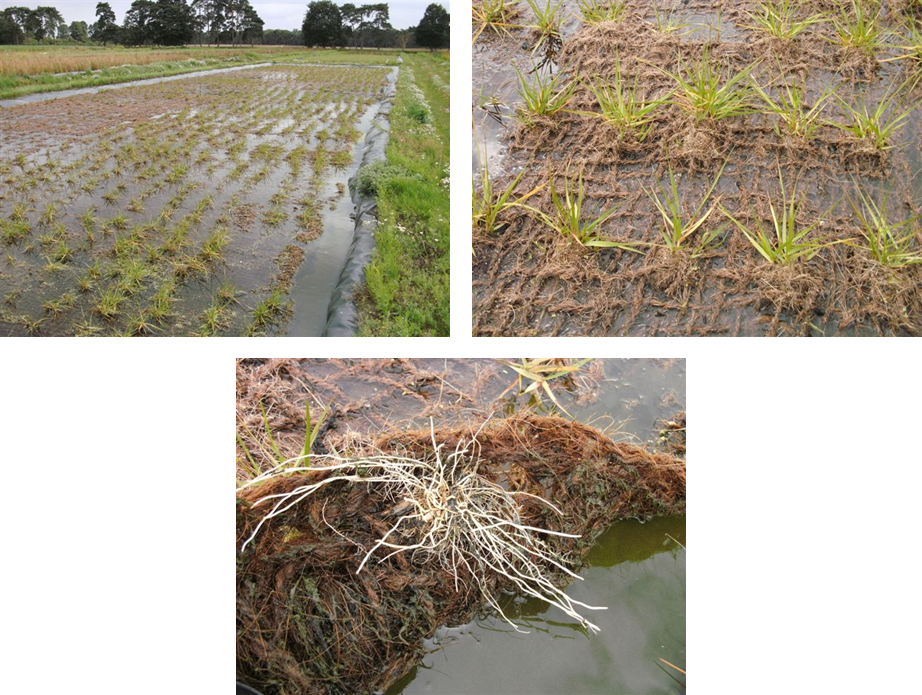 Mats were rolled up for transportation. Because the mats were heavy and the installation sites far from the road, transportation of the mats to the sites was difficult. Only one marsh could be reached by car. A special boat was used to bring the mats to the right place during high tide. The actual installation of the mats was simple. During low tide the mats are rolled out on the mudflat and fixed with biodegradable pins. Edges of the mats were dug into the bed to prevent dislodging. Single plants were planted according to the design scheme.