Overview
The sand bar near Workumerbuitenwaard was constructed about two decades ago with the goal to provide a gradual supply of sand to the shore.
Location: IJsselmeer area, The Netherlands
Date: 1992- 1998
Involved parties: Rijkswaterstaat, It Fryske Gea
Technology Readiness Level: 5 – technology validated in relevant environment
Environment: Lakes
Key words: Sand nourishment, sand bar, IJsselmeer, sedimentation, coastal erosion, coastal wetlands.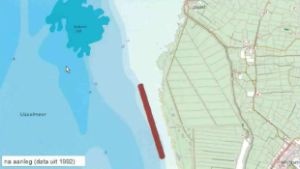 About
In September 1992, a sand bar was constructed in 1992 along the coast of Workumerbuitenwaard at 1m below mean sea level. The sand bar- with a length of 2 km and a width of 120 m- was located 450 m from the coast and not protected by any artificial structure.
Goal of the project was the eastwards movement of the bar resulting in a gradual supply of sand to the coast and expansion of the wetlands along the shore. As this project has been executed some decades ago, the case Workumerbuitenwaard serves as a historical case from which lessons can be learned.