Adapt procurement mechanisms in favor of sustainable solutions
EcoShape was present at the Climate Change Conference in Katowice in December. EcoShape partner Wetlands International had created the opportunity to participate in a panel discussion hosted by World Wildlife Fund (WWF) US. EcoShape director Henk Nieboer participated in the panel session and attended several other sessions. One of his key messages was to adapt international procurement mechanisms in favor of sustainable solutions.
In the first session 'Business for nature and climate, the case for an integrated approach' Henk Nieboer as a member of the audience discussed the following:
• If we want to achieve innovation and positive change in the business sector the focus shouldn't be only on the large corporates of the world, but more interaction with and between innovative and disruptive Small and Medium Enterprisesshould be created;
• Don't assume that businesses are driven by risk aversion; businesses are driven through seizing opportunities by taking risks;
• Therefore, promote opportunities, rather than pointing out risks if you want to engage the private sector in climate change mitigation and/or adaptation;
• Don't assume businesses need a level playing field; there should be a playing field which favors sustainable businesses;
• Invite more business people to forums about businesses and engage with them.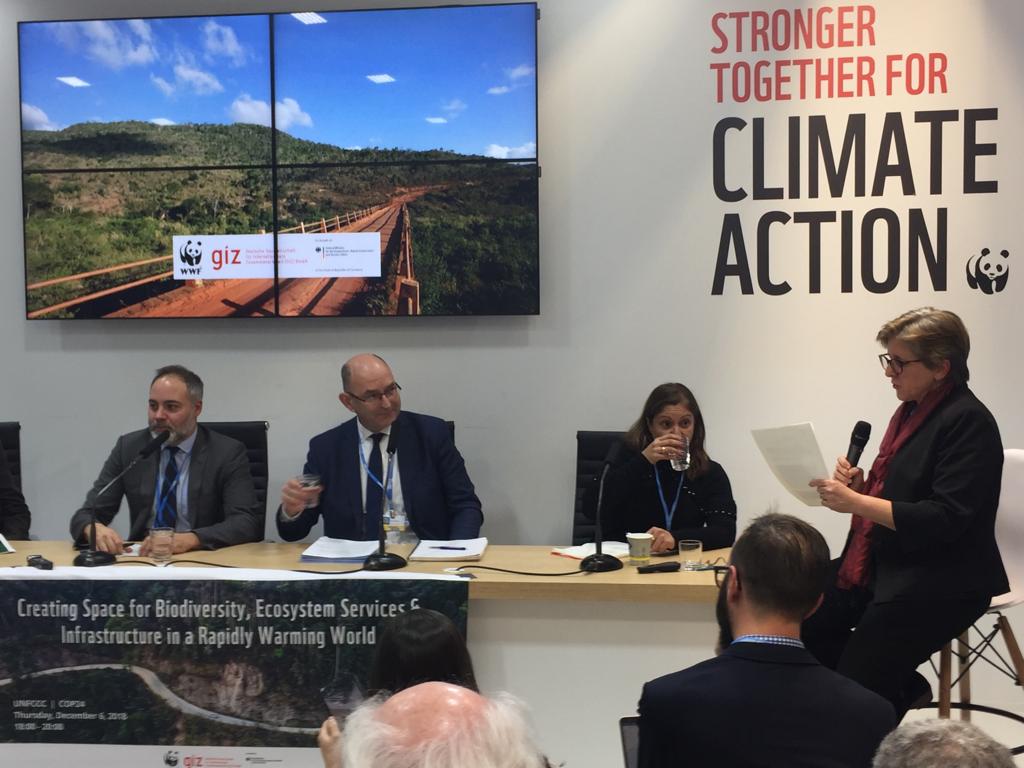 Nieboer joined as a panel-member in the session "Creating space for biodiversity, ecosystem services and infrastructure in a rapidly warming world: Supporting NDC implementation". In this session hosted by WWF US, co-speakers were Thaddeus Pawlowski of Columbia University, managing director for Resilient Cities and Landscapes (engaged in rehabilitation of New York after Sandy); Till Kötter of the Bundesministerium für Umweltschutz, Berater Internationaler Klimatschutz; Amal-Lee Amin Division Chief of Climate Change and Sustainability Division at IDB (Inter-American development Bank). Panel moderator was Kate Newman, Infrastructure specialist at WWF-US.
Core message by WWF in this session was that 75% of infrastructure that is needed in 2050 still has to be build. And if we have to build it we better do it sustainably. An important point made by Nieboer was that we need to adapt procurement mechanisms in general and more specifically at the multi-lateral banks in such a way that they favor sustainable solutions. Furthermore, the audience seemed to like his idea to set-up international committees to work on a common language with regard to e.g. ecosystem service delivery and the description of nature based solutions.