The second Building with Nature program is nearing its conclusion. In recent years, we have worked hard with all partners to develop knowledge and demonstrate the potential of this way of designing. This fall is all about sharing the knowledge and experience gained in the form of concrete products, including a book and a new online platform.
Since 2008 EcoShape has been working on knowledge development about Building with Nature by means of pilots. For example, EcoShape was one of the founders of the Clay Ripener and the salt marsh trial at Delfzijl (Marconi). Innovative projects in which EcoShape was and is involved as a partner received worldwide acclaim, such as the Sand Motor and Marker Wadden. EcoShape director Henk Nieboer sees that the program distinguishes itself internationally by putting solutions into practice: "Often it remains at enthusiastic ideas, but EcoShape experiments with concrete pilots in combination with intensive monitoring. This allows us to demonstrate how it works in practice. We make the acquired knowledge available to everyone so that it can further grow in the projects of others".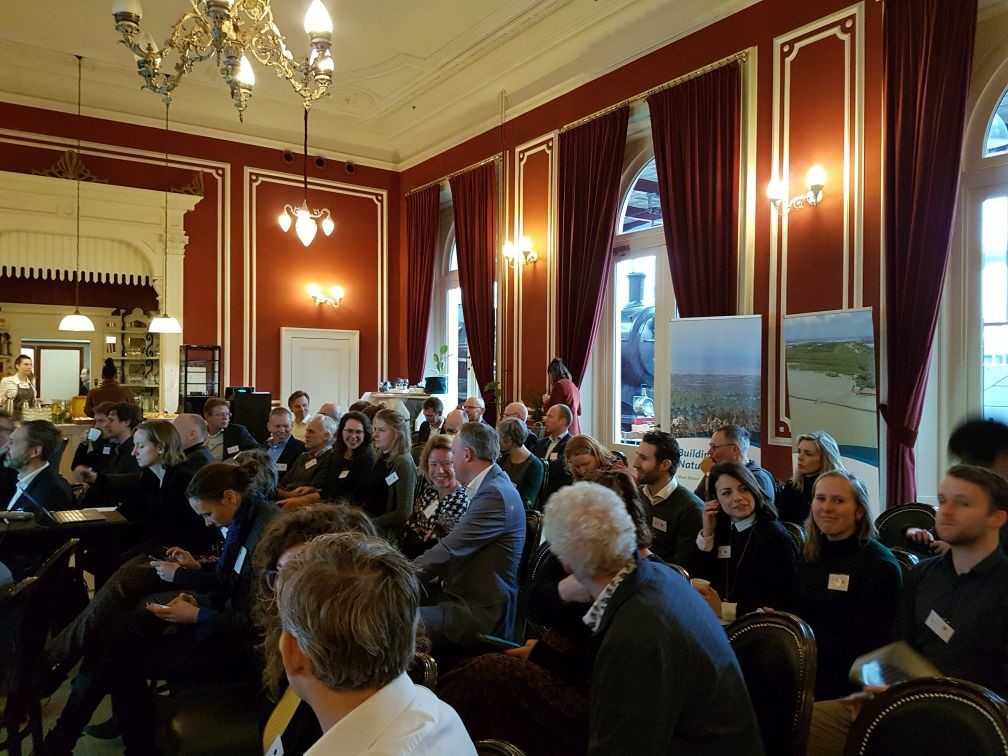 Sharing knowledge
Among other things, a book will be published this autumn to transfer that knowledge. A new online platform will also be launched, which is fully focused on sharing knowledge about Building with Nature. A beautifully designed website allows visitors to become acquainted with the concepts and applications of Building with Nature through interactive landscapes, which focus on the utilization of natural materials and dynamics. Different Building with Nature concepts, or ways of realizing Nature-based Solutions, are discussed. From initial planning to the maintenance phase. In addition, a webinar series will provide in-depth information on specific themes.
Online platform
"The online platform should provide inspiration and encourage action," says Jurre de Vries (EcoShape/Van Oord), who directs an eight-person team to set up the website. "The idea is fun and nice, but how do you actually tackle a Building with Nature project? We want to illustrate the possible paths by means of practical examples and landscape images. To this end, we set out a number of key conditions (enablers), which form the basis for a successful project. Attention is also paid to dealing with uncertainties in Building with Nature projects and the way in which a realistic business case can be worked out".
Webinars
Over the next six months, a number of interactive webinars will also be produced and made available on the website. The online lectures offer in-depth knowledge on a wide range of topics, some of which are technical and some of which are policy related. For example, a session on effective monitoring and a webinar on working out a good business case.
Whitepaper about realistic business case
Providing insight into the costs and benefits of Nature-based Solutions is a subject that will receive a lot of attention in the coming months. Benefits appear to be obvious, but are often difficult to quantify. Think, for example, of ecosystem services, such as improved water quality or a more healthy living environment.
In cooperation with consultancy firm Rebel, a white paper explains the typical aspects of the business case of Building with Nature projects. "We hope to further inspire investors such as governments, development banks and climate adaptation funds to choose Building with Nature by offering concrete tools", explains economist Sien Kok (EcoShape/Deltares), who is involved in the whitepaper.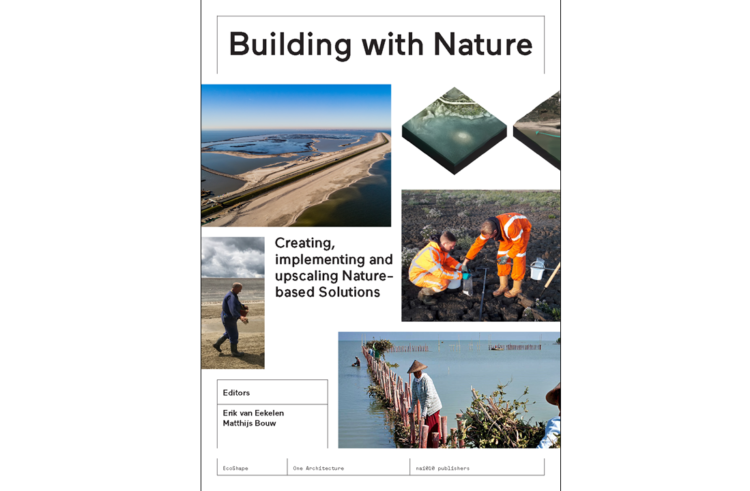 Book emphasizes versatility
The book, which will be published this autumn, shows how to put this into practice using six different types of landscape. The title of the book is 'Building with Nature – Creating, implementing and upscaling Nature-based Solutions'. Erik van Eekelen (EcoShape/Van Oord): "Until now, our communication has often been linked to concrete pilots. As a result, parties often asked for one specific solution such as a Sand Engine. This is despite the fact that the principles of Building with Nature emphasise that specific solutions are based on the local system and can then be further optimised on that basis".
This message is clarified in interviews that are very practical, but sometimes also have a philosophical touch. For example, you can read about the benefits of restored mangroves for fishermen in Indonesia and Saleemul Huq, director of the International Centre of Climate Change and Adaption (ICCCA), talks about Nature-based Solutions in Bangladesh. Erik van Eekelen: "The book is mainly an encouragement to pick up the gauntlet yourself. We hope to show what Building with Nature has to offer in different landscapes and what it takes to put Building with Nature into practice. In this way we help the reader with knowledge and inspiring stories from people working with Nature-based Solutions worldwide".