Operation and Maintenance
By the 1st of October parts of the mattress were starting to sink. Floating capacity of the mattress was enhanced artificially with empty plastic jerry cans. A storm on the 13th of October caused the braided willow branches to disentangle and large parts of the mattresses sank further due to wave impact. Consequently, in December the marsh was removed and the brushwood was transported to a biomass burning power plant.
Monitoring
The following aspects of the floating marsh were planned to be monitored.
Floating ability
Development of habitats
Biomass production
Wave reduction
Filter capacity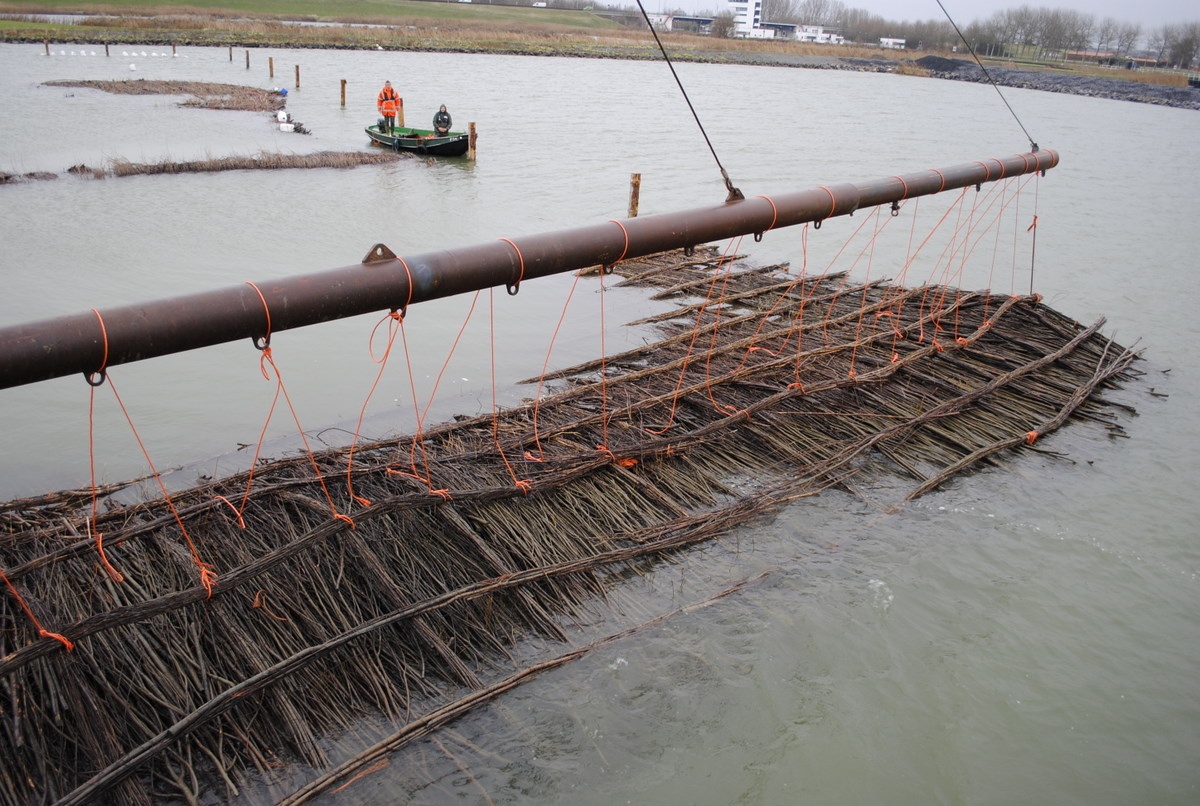 Due to rapid sinking of the mattresses, most of these factors could only be monitored qualitatively. The monitoring plan developed for this installation can effectively be adapted for further implementation of reed mattresses, either floating or sinking, as many of the monitoring aspects remain the same.
Evaluation
The long-term floating capacity appeared to be too low and the marsh sank within 5 months. This was caused by water absorption of the brushwood and insufficient growth of self-floating reed rhizomes in this period.
The first reed growth was observed on July 17th, 3 weeks after completion. In the following month the reed was growing rapidly. Growth was more abundant on the second and third part of the marsh, with a maximum reed height of a little over 2 m and a maximum density of around 15% by September 1st. Grazing of the reed by geese was observed (van Geest et al. 2010).
No measurements on wave reduction in the field were made, but during periods with waves a significant reduction of wave energy was visually observed on the sheltered side of the marsh and in the small open areas inside the mattresses. Measurements in the Delta Flume showed that significant wave attenuation can be achieved with floating marshes (van Steeg & van Wesenbeeck 2011).
In the sheltered zone in the middle of the mattresses a higher concentration of water birds was observed.
During the application of the plastic jerry cans 'significant' amounts of settled mud were observed underneath the mattress. This effect was expected, but could not be quantified.