We are building a stable coastline in Northern Java through an innovative Building with Nature approach.
Strongly eroded coastline in Northern Java
Communities in Northern Java are suffering from coastal erosion affecting hundreds of kilometres of coastline. In the district of Demak more than 3 kilometres of land including entire villages have already been swallowed up by the sea. In addition, the important nursery function of mangroves for several fish species was lost.
Business as Usual Scenario
The Business as Usual scenario in 2030 shows a fully flooded area with evacuated villages and land loss due to unsustainable groundwater extraction, mangrove loss and expected sea level rise, affecting over 70,000 people and 6000 hectares of aquaculture ponds. In the long run 30 million people may be affected by coastal erosion.
Dream scenario
Our dream is to build a stable restored mangrove coastline that reduces erosion, can adapt to sea level rise and enables inclusive economic growth, so that communities in Demak are safe and can prosper. We do this through an inspiring Building with Nature pilot in which we trigger a paradigm shift towards water infrastructure solutions that align the interest of economic development with care for the environment.
Addressing the root causes of erosion
The main causes of the erosion problems are the removal of mangrove belts for aquaculture development, the construction of coastal infrastructure that disturbs sediment build-up from offshore sources, and groundwater extraction, which causes land subsidence and river canalisation. We are introducing the Building with Nature approach to address these root causes, integrating mangrove and river restoration, small-scale engineering and sustainable land use.
Mangrove recovery
To restore the mangrove system, it is not possible to simply plant mangroves, as the wave exposure, submersion time and sediment conditions in the eroded area are not optimal anymore. Planting mangroves is often not preferable, especially if the right mangrove species are not planted at the right location which will impair natural mangrove formation and result in a fragile mangrove forest or no forest at all. Instead, we built temporary semi-permeable barriers from poles and brushwood to dampen the waves and capture sediment, creating sheltered areas near the coast for accretion. Once the near shore bed level rises enough, mangroves will regenerate naturally, developing a natural defence that will protect the hinterland from further erosion. Where the coastline has not yet been eroded, we are encouraging the conversion of ponds into mangrove forests in close collaboration with local communities.
Sustainable aquaculture
We are putting a model into place for sustainable aquaculture that provides space for mangrove restoration and requires less use of chemicals, in order to enable vulnerable communities and economic sectors to prosper, to be more self-reliant and to increase their hazard resilience. The measures will be controlled using community bylaws and rooted in community development plans and government master planning for sustainable development.
Subsidence problems
There is a shared responsibility to address subsidence problems. Groundwater abstraction is a global cause of soil subsidence in many areas of the world. Therefore, informed decisions can only be made by mapping water demands, water availability, water safety and through dialogue. It ultimately calls for an integrated water management plan. The Building with Nature Consortium explores the potential to shift to surface water and severely reduce ground water extractions. But it is better to first map all the water demand, which the project partners encourage through multi-stakeholder dialogue.
Replication and scaling up
There is a Building with Nature solution for every setting, combining green and grey in an optimal mix alongside other measures for risk reduction. Our objective is to replicate and scale up the Building with Nature approach to other rural and urban areas. Building with Nature is innovative and site specific and it operates in areas where the understanding of systems is limited and where changes are dynamic. We have therefore adopted a strategy of learning-by-doing and we are sharing our knowledge and the lessons we learn widely to support the sound replication of our approach. We do that through capacity building, knowledge exchange and embedding in policies and planning.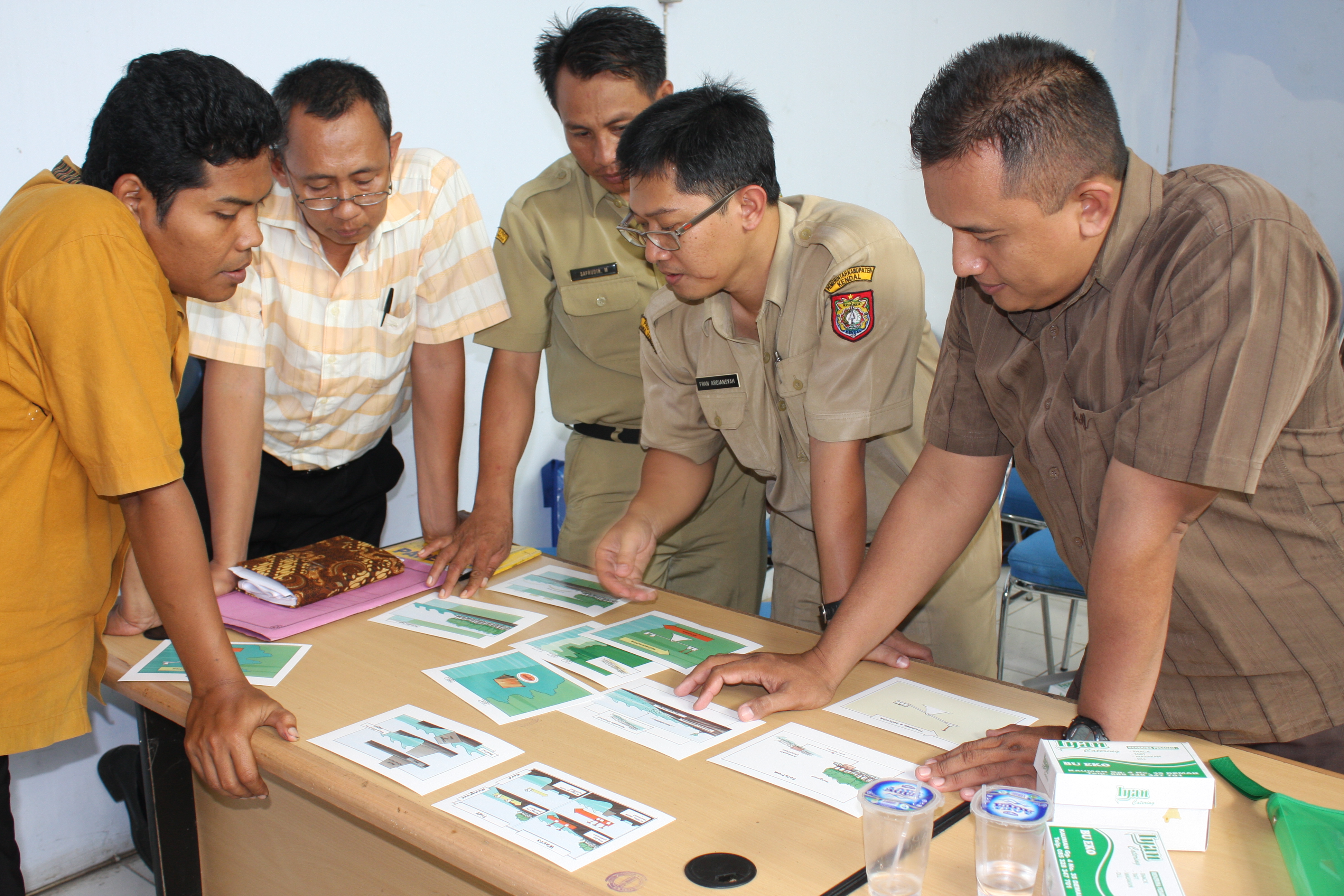 Building with Nature Indonesia guidelines
Supported by:
The Dutch Sustainable Water Fund, The German Federal Ministry for the Environment, Nature Conservation and Nuclear Safety (BMU) as part of the International Climate Initiative (IKI), Waterloo Foundation, Otter Foundation, Top Consortia for Knowledge and Innovation, and Mangroves for the Future, and with contributions by all partners.
For more information: