Overview
Title: Governance for sustainability – Øresund Fixed Link (DK)
Location: Øresund (Sweden – Denmark)
Date: 1991 – 2000
Involved parties: consortium owned by the states of Sweden and Denmark, on a 50-50 basis and through two companies: A/S Øresundsforbindelsen (Denmark) and Svenska-Danska Broförbindelsen SVEDAB AB (Sweden)
Technology Readiness Level: 9 – actual system proven in operational environment
Environments: Sandy coasts, Muddy coasts, Rivers & Estuaries
Keywords: Tunnel, Bridge, Artificial island, Environmental monitoring, Feedback monitoring, Design and construct
The Danish and Swedish governments decided in 1991 to build a fixed link, between Denmark (Copenhagen) and Sweden (Malmö) crossing the Øresund (the Sound), consisting of a tunnel, an island and a bridge. Two environmental concerns associated with the establishment of the link were identified:
The link itself could affect the water and salt flow through the Øresund and into and out of the Baltic Sea, leading to reduction of fish catches, and affecting other biological systems in the Baltic Sea.
Sediment spill during construction work could affect sensitive receivers such as mussels, sea grass and eiders.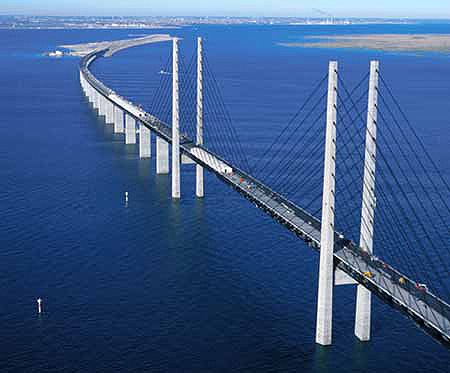 An International Expert Panel, advising the Danish and Swedish governments, was formed to design mitigation strategies to avoid negative environmental impacts. The proponent was the Øresundskonsortiet, owned jointly by the Danish and Swedish Governments.
During construction works an intensive environmental monitoring program was implemented, among which a so-called feedback monitoring system. Its aim was to ensure the earliest possible intervention whenever there was a risk of environmental norms being exceeded.