Overview
Location: Zeeland, The Netherlands
Date: 2010
Involved parties: EcoShape, Deltares, Rijkswaterstaat, TU Delft, DHV
Technology Readiness Level: 2 – technology concept formulated
Environment: Lakes
Keywords: Building by nature, Morphological studies, Impact assessment, Channel dredging, Estuary protection.
Building with Nature design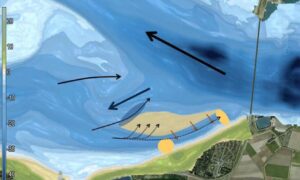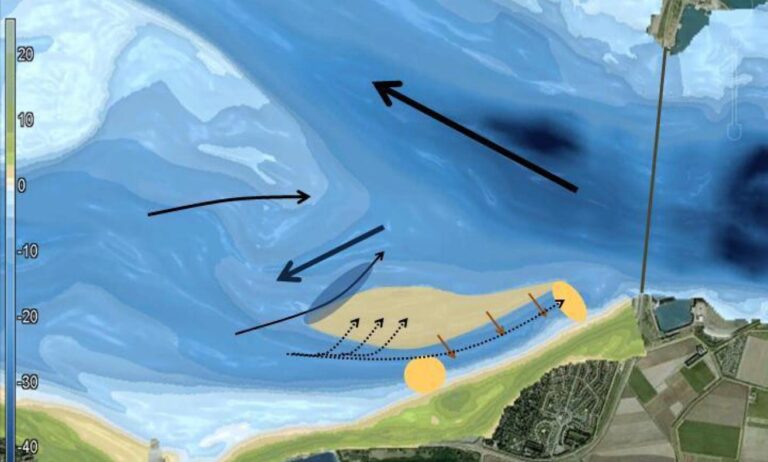 Large scale nourishments in deeper areas of the Onrust channel that aid the natural shoreward movement of the Onrust shoal in the long term and provide short term relief to the sand-starved coastline.
Traditional design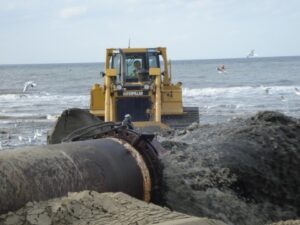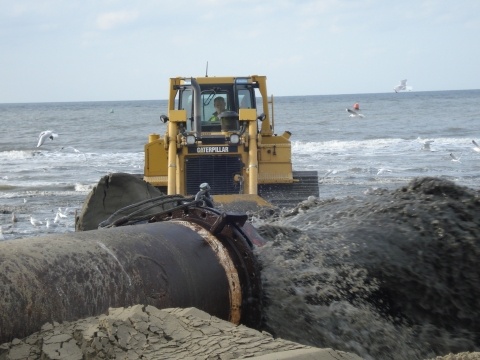 Maintenance and strengthening of the coastline by means of beach nourishments, or channel nourishments and reinforcing sea defenses. Although such methods are well tested, the financial and social costs are becoming increasingly prohibitive.
Abstract
An innovative sand engine design was proposed to counter structural erosion of the coast at Onrustpolder. The design of the sand engine was examined using a numerical model.
The object of this project is to design and evaluate a sustainable solution to the ongoing coastal erosion at Onrustpolder. Current practice is to counter the erosion by means of frequent beach nourishments. Due to the increasing financial and societal costs of this method of coastline management, an alternative sustainable solution is required.
The coast at Onrustpolder, Zeeland has been subject to structural erosion for approximately the past 40 years. This erosion is principally caused by the migration of the Onrust tidal channel towards the coast at Onrustpolder. In the past the coastline has been nourished by frequent beach nourishments to compensate for the structural erosion problem.