Overview
The Marker Wadden is an unique nature restoration project. The Marker Wadden consist of a series of archipelago nature islands that are constructed to halt the decline of the ecosystem in the Markermeer by improving water quality, life below water and create new (recreational) nature area. The new islands group in the Markermeer is a Living Lab for researchers. The dedicated research programme KIMA is studying the development of the ecosystem. Never before has excess fine sediment been used on a large scale to construct nature islands for ecosystem restoration.
Location: Markermeer, The Netherlands
Date: 2016 – present
Involved parties: Natuurmonumenten, Rijkswaterstaat, Royal HaskoningDHV, Boskalis, Deltares, Witteveen+Bos, Arcadis, Province of Flevoland, Ministry of Infrastructure & Environment, Ministry of Economic affairs, Nationale Postcode Loterij and KIMA.
Technology Readiness level: TRL 7 – system prototype demonstration in operational environment
Environment: Lakes & Rivers
Keywords: turbidity reduction, nature islands, sediment trapping, sedimentation basins, habitat development.
Lake Markermeer arised after the construction of the Houtribdijk between Enkhuizen and Lelystad in 1976. Due to this closure the direct link with the IJsselmeer is lost. In addition, hardly any natural shores are present nowadays, due to the construction of hard structures, such as levees and dams, along the shores of Markermeer. These developments resulted in the formation of a thick layer of silt on the bottom of the lake. During windy conditions, silt particles get in suspension resulting in increased turbidity in the water column. The past 20 years a decline in biodiversity is observed in the Markermeer. Studies indicate multiple causes. Lacking connectivity with the sea, the IJsselmeer and major rivers. Secondly the thick silt layer, which suffocates benthos biodiversity. Finally, the absence of natural shores and shallow areas in the lake.
The project Marker Wadden includes the construction of multiple artificial nature islands, with sand and silt from the Markermeer ecosystem itself. By extracting part of the silt and creating shallow areas and low exposure areas around the islands, the project aims to reduce turbidity. At the same time, the project partners try to enhance biodiversity, improve water quality and create leisure facilities in the Markermeer. In addition, a robust ecosystem allows for further infrastructure and urban development around the Markermeer and IJmeer.
The corresponding Knowledge and Innovation programme Marker Wadden (KIMA) is investigating how the Marker Wadden ecosystem has been developing. It is aiming to generate new knowledge about building with fine sediment, sand and clay and about ecology and governance. The knowledge programme consists of three research themes:
Valuable Ecosystem: How does the Marker Wadden contribute to improving food supplies for birds?

What is the contribution of the Marker Wadden to food supply for birds?

How affects food supplies the number and diversity of birds?

Building with Mud and Sand: How do you build with mud and sand?

What is the sedimentation rate in channels, pits and sheltered areas?

How do created sludge compartments develop in terms of strength and elevation?

How do Marker Wadden's sandy shores interact with the Markermeer?

Adaptive governance: What does Public-Private Partnership involve?

How to innovate tendering processes and financing?

How to implement an adaptive management governance approach?

How to develop a serious game to bring these topics to the table?
What makes this project unique is the public-private collaboration and the win-win situation where excess fine sediments from the Marker Lake are used to create part of the Marker Wadden and its valuable habitat.
This case page "Marker Wadden" focuses on the construction of the first five islands (phase I) and the research program KIMA.
Initiation
Marker Wadden is one of the largest nature restoration projects in the Netherlands. The Markermeer, a Natura 2000 site and a valuable ecological and recreational asset, is located to the north of the Randstad, a strongly urbanized region that includes Amsterdam and Almere. Markermeer ecosystem is under pressure and so there is a threat of restrictions in spatial development as a result of the enforcement of nature legislation. This means that improving natural values in the Markermeer is necessary for future socio-economic and spatial development in the region.
In 2009, the Dutch government decided to develop the Lakes Marker-IJssel area towards a futureproof ecological system (Toekomstbestendig Ecologisch Systeem (TBES)). The creation of large-scale (sheltered) land-water transitions was identified as a high potential solution. In 2012, the Dutch Society for Nature Organisation Natuurmonumenten developed a plan to create about 6,000 to 10,000 hectares of man-made islands leading to more wildlife. The plan of Natuurmonumenten, fitted well with the ambitions of the government to improve the ecological quality of Markermeer. In 2014 the cooperation between the national government, Rijkswaterstaat, Province Flevoland and Natuurmonumenten was official and the project 'Marker Wadden' could start.
Project objectives
Marker Wadden nature islands are commissioned by Natuurmonumenten and Rijkswaterstaat (RWS) (Natuurmonumenten, 2020). The main drivers of the project were the ambition to develop new habitat for birds from Natuurmonumenten and the urgent need to improve the water quality of the Lake Marker by RWS (Ruurd Noordhuis et al., 2014; Beumer et al., 2017). In addition to ecology related goals, Marker Wadden also have goals related to knowledge development and spatial planning.
Ecology
Several studies indicate the poor water quality, lack of food supply for birds and a decline of breeding birds in the Lake Marker ecosystem (e.g. R. Noordhuis, Harezlak, Boderie & Genseberger, 2017). The IJselmeer area is transformed to a freshwater lake by the construction of the Afsluitdijk in 1933. Turbidity levels are increasing ever since. Due to the shallow bottom profile (mainly clay and silts) of the Lake Marker, fine sediments are kept in suspension under influence of wind waves and currents.
The creation of Marker Wadden should result in a future proof ecosystem. The project aims to improve the water quality by reducing fine sediment concentrations. Sheltered shallow areas around the islands enhance settling of fine sediment. This results in less turbid water and thus more light penetration. This enhances development of plants and algae and thereby activates the food chain from algae, plankton, benthos, fish and birds. In addition, the design includes gradual transitions from more clear water to more turbid areas, because various habitat types with different elevations and gradients that provide resting areas for birds and fish are needed to enhance biodiversity.
Knowledge development
Knowledge development for follow-up projects are defined as one of the project objectives. A knowledge programme was initiated parallel to the project with parties RWS-WVL, EcoShape, Deltares NIOO-KNAW and Natuurmonumenten. This Knowledge and Innovation Programme (KIMA) has its own funding and started in 2018 (two years later than the start of the construction). This programme aims to develop knowledge on the subjects: ecology, hydraulic engineering and water governance by executing fundamental and applied research. The research program continues till 2022. More information can be found at KIMA Lessons learned.
Spatial planning
Although spatial planning is not one of the project objectives, the plans for Marker Wadden fit well in the regional ambitions to stimulate socio-economic developments in the region Almere-Amsterdam (RRAAM, 2013)". Improvement of the Lake Marker ecosystem is required to allow further socio-economic development in the region. There is a clear need for housing around the Lake Marker. For instance, during the timeframe of Marker Wadden project about 60.000 houses will likely be built in the city Almere. The Lake Marker acts as a strategic fresh water reserve for both drinking water and agriculture (Ministerie van Infrastructuur en Milieu & Infrastructuur van Economische Zaken, 2014).
Actors and Public-private collaboration Marker Wadden
Many organisations are involved in the initiation of project Marker Wadden. Twelve actors were especially involved: Municipality of Lelystad, Natuurmonumenten, Boskalis, Ministry of Economic Affairs, Ministry of Agriculture (LNV), Ministry of Infrastructure and Water (IenW), Province Flevoland, Nationaal Groeifonds, RWS Midden-Nederland and KIMA associates.
Having such a large group of stakeholders with different backgrounds results in a complex project from a governance point of view. Each stakeholder has its own interests and problem perception. The actors can be divided into subgroup with each their own (main) interest. Interaction between the actors and dilemmas are described in more detail in KIMA (2018), Duijn et al., (2018) and KIMA (2020b).
For the Marker Wadden project, Natuurmonumenten and RWS acted as a public-private alliance. This collaboration framework includes a cooperation in which actors strive together to the development of a specific services of which they share the risks and costs. This framework focusses on partnership, innovation, interactive decision-making and working towards added value for all partners involved. This kind of framework requires flexibility and trust between parties to facilitate innovative financing mechanisms and effective conflict management. The main advantage is knowledge and risk sharing, which is likely to limit execution costs and time.
Project role
Actor
Description
Project team Marker Wadden
Natuurmonumenten
NGO, nature organization and initiator of Marker Wadden
Rijkswaterstaat
Governmental agency responsible for water management Markermeer
Royal HaskoningDHV
Advising role for procedures and permits
Contractor
Consortium Boskalis, Witteveen+Bos, Vista and Arcadis
Winning consortium responsible for design, construction and (partly) maintenance of Marker Wadden
Financers
Ministry Economic Affairs
Responsible for nature legislation, interest in socio-economic development of Amsterdam-Almere region
Ministry Infrastructure and Environment
Responsible for water quality
Province Flevoland
Responsible for spatial planning and implementation nature laws, interest in socio-economic development of Amsterdam-Almere region
Natuurmonumenten
Besides initiator also financer, partly via funds of Postcodeloterij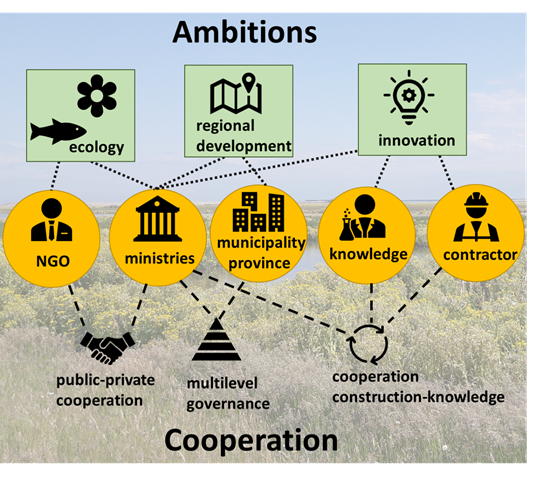 Finance
The design and construction of the Maker Wadden (first phase) is financed by Natuurmonumenten (largely via a charity fund from a national lottery the Postcodeloterij) (30.5 million EUR), Ministry IenW (18.5 million EUR), Ministry EZ (18.5 million EUR) and Province Flevoland (6.5 million EUR). The respective contributions were deposited on an external account of the Dutch national fund for green investments (in Dutch: 'Nationaal Groenfonds'). Monitoring activities and knowledge development were separately financed. Combining innovative financing and spatial planning facilitates local cooperation where people can invest in planned activities in their area. An exploratory research on the business case of Marker Wadden can be found in Lenselink et al., (2014) and Hüsken (2021). More information on the financing structure can be found in KIMA (2020b).
Planning and design
 Planning
The construction of the first phase of Marker Wadden project finished end 2020 and included the creation of five islands with a total area of 1000 ha of new below water and above water landscape. A follow-up of this phase was initially planned to be constructed earliest 2027 (RWS, 2019). However, due to promising results of the first phase two additional islands (300 ha in total) will be established by 2023. The research program KIMA runs partly parallel (2018-end 2021) to the first construction phase of Marker Wadden. The first phase of Marker Wadden can be subdivided in three subphases: initiation, construction and maintenance:
Initiation phase (2012 – 2015)
Natuurmonumenten initiated the project from 2012 onwards. During this phase Natuurmonumenten and the engineering company Royal Haskoning DHV collaborated to formalize project ideas. In 2014 governmental support was acquired by singing a collaboration agreement with Natuurmonumenten, the national government, RWS and the province of Flevoland (Rijkswaterstaat, 2014). In the same year the tender (design and construct) was brought to the market which was awarded to the consortium Boskalis, Witteveen+Bos, Vista and Arcadis in 2015.
Construction phase (2015 – 2020)
The consortium constructed Marker Wadden in a time frame of 5 years. Natuurmonumenten and RWS acted collaboratively as project team and client of the contractors. Information on committees that provided knowledge, advice and/or monitored progress can be found in KIMA (2020b).
Maintenance phase (2021 onwards)
After construction of Marker Wadden, Natuurmonumenten remains responsible as leaseholder for maintenance and exploitation of the islands. RWS is responsible for water management of Markermeer. The contractor Boskalis has a maintenance obligation for the sandy shores of Marker Wadden until 2030.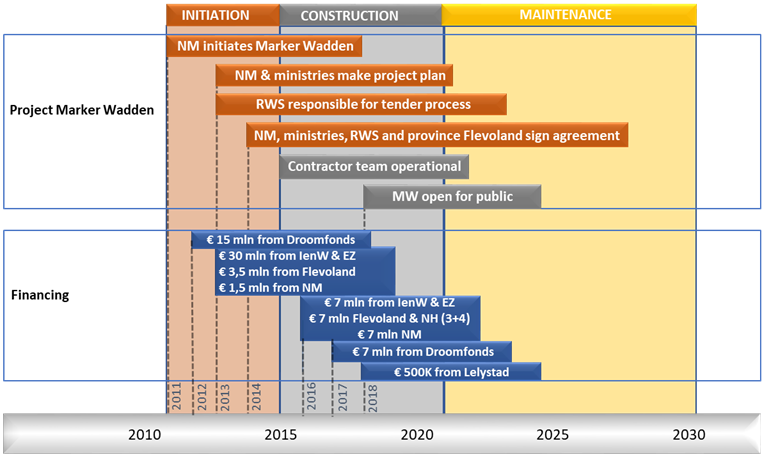 Design
Marker Wadden is located in the north east of the Lake Marker. This location has been chosen given the boundary conditions described in land use plans. The group of islands has an overall size of 4.5 km by 2.3 km (Figure X). The lay-out of Marker Wadden (Figure X) can be subdivided in the main dam, secondary dams, compartments, sheltered marshland, recreational elements, a sandpit and sedimentation channel. The main outer dam that is facing northwest and southwest is sheltering marshlands to incoming waves. The rear side (east side) of Marker Wadden has an open structure.  Effects of wind and water level set-up are included in the design. Marker Wadden is designed in such a way that it redirects water flows, which results in an increased current around the northwestern and eastern side of Marker Wadden. This enhances water exchange between Marker Wadden and the Lake Marker. The flow at the eastern (backside) of the islands enters a network of channels and creeks. This allows for transport of sediments towards sheltered areas where they can deposit.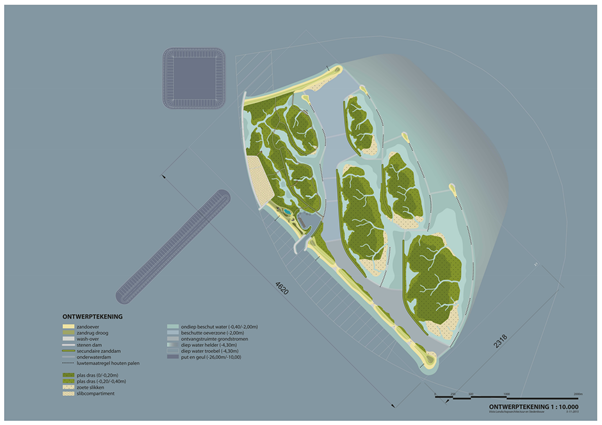 Main dam
This part of Marker Wadden consists of two stretches of sandy shores and one sandy dam covered with riprap that all together dissipate incoming waves. The first stretch is a sandy dam of roughly 1350 m oriented to the north-west. This part is connected to the second stretch that is enforced with a riprap with a length of 1650 m and an overal height of +1.50 m NAP. However, three lower stretches exist along this part where waves can overtop the dam and water can enter the sheltered area. The final stretch is a sandy dam with a length of 3140 meters facing the south-west. This stretch also contains an opening to provide entry for vessels towards the port which is sheltered behind the dam. The stretches have a width between 20 to 30 m (above water), a height of 3-6 meters and are thereby similar to the low dunes that were once present along the shores of the Zuiderzee. South of the port entry channel, four wash-over zones have been established. These zones enhance morphodynamics and interactions between Marker Wadden and the Lake Marker.
Modules of Marker Wadden (left) primary dam, (mid) secondary dams, (right) marsh development and open structure at the eastern boundary (Arcadis & Boskalis, 2016).
Compartment dams (secondary dams)
Behind the main dam, marshlands have been established which experience additional protection from series of secondary dams oriented to the west, so-called compartment dams. These dams have a width of 10 m and a slope between 1:4 and 1:7. Initially the secondary dams had a height of 1.50 m. Once the marshlands have been fully developed these dams will be lowered to enhance interaction.
Marshland
Behind the main dam and the compartment dams, several marsh areas are present. These areas have mild slopes between 1:100 and 1:200 and are partly elevated and partly low-lying which results in a natural setting. The marshland compartments are filled with Holocene material from the Lake Marker ecosystem. After consolidation, the marshlands will have an elevation between +0.0 m NAP and -0.40 m NAP. The creeks are shallow with a depth between -0.70 m NAP and -1.0 m NAP.
Recreational port and recreational elements
Marker Wadden is primarily a resting place for birds and an instrument to improve water quality and overall ecosystem health of the Lake Marker ecosystem. In addition, some recreational facilities such as hiking paths and decks, children playgrounds, educative objects, a visitor centre and a watch tower are established. These elements are concentrated on the largest island and thereby prevent human-induced nuisance on the other nature islands. The port has a 80 m wide entry channel which leads to the harbour basin that houses a jetty of 150 meters. The port is accessible for recreational vessels.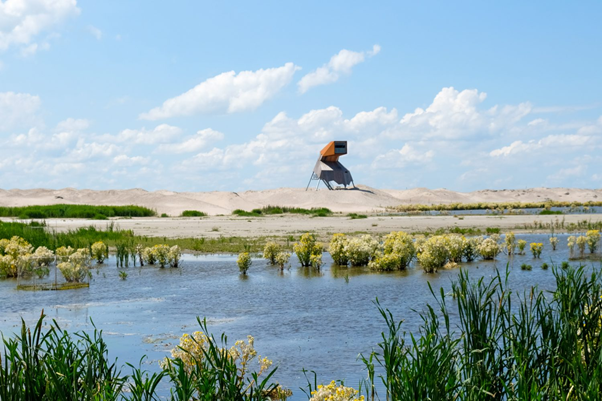 Sand pits and sedimentations channels
West of Marker Wadden silt traps are incorporated in the design, which during the construction also served as borrow areas. The captured sediments can be re-used for maintenance of Marker Wadden. Combining a sand pit and sedimentation channel with the construction of nature islands seems to be the most effective way to reduce turbidity in the Lake Marker and provide valuable habitats (Royal HaskoningDHV, 2015). The current lay-out of Marker Wadden contains a sand pit (~26 m depth) and a channel (~10 m depth).
The traps result locally in a decrease in current velocity which enhances sedimentation. In addition, these areas could trap sediments that are transported near the bed by a density current. A technical description of the trapping mechanisms can be found as part of the in-depth concept page: Sedimentation Basins.
The configuration (e.g. shape and depth) of the deepened areas are important for its effectiveness (Royal HaskoningDHV, 2010). The shapes that were considered include: elongated pits (Witteveen+Bos, 2004), long channels (Deltares, 2008), "Oervallei" (Deltares, 2009), round pits (Brenk, 2002) and cross-shape pits (Deltares, 2008). The effect of deepened areas in the Lake Marker has been addressed in multiple studies (overview in Royal Haskoning DHV, 2010). These studies emphasized that the construction of pits and sedimentation channels alone are insufficient to reduce the overall turbidity levels of the Lake Marker. In addition, these measures tend specifically to reduce turbidity in proximity of the measures. Furthermore, model simulations indicate that predominantly larger sediment fractions are captured, while an excess of finer sediment fractions is responsible for high turbidity levels in the Lake Marker.
Ecological design
The design of Marker Wadden mainly focusses on providing an attractive and safe area for birds. In the Markermeer ecosystem, birds are on top of the food chain and are a good indicator of overall ecosystem health. Three main design boundary conditions existed:
1) Food supply
2) Resting areas
3) Breeding areas
A large food supply starts by using nutrient rich Holocene clay and silt. Birds are ecosystem engineers, they influence and form their living environment to a large extent. Construction of the marshlands has the purpose to create an initial environment that attracts large groups of birds. These birds will influence the system be fertilizing, grazing, distributing seeds etc. Marker Wadden provides many resting and breeding areas for birds, for instance the design contains many (vegetated) banks and sheltered waterbodies of various sizes. The fact that Marker Wadden is a collection of islands helps to enhance successful breeding.
Thirteen different habitats will (likely) be established on Marker Wadden: turbid deep waters, clear deep waters, pit and channels, sand banks, sandy ridges, banks with hard substrate, reef of poles, shallow sheltered water bodies, tall herb and reed vegetation, varying reed lands, shallow pools and hydrosere vegetation, reed marsh and sedge and fresh water mudflats. A detailed description of these habitats can be found in Arcadis&Boskalis (2016).
The sand pit and sedimentation channel could negatively affect ecology by stratification in these deeper parts, altered bed profile and nutrient availability (Royal HaskoningDHV, 2015). However, the effects are expected to be limited on a system scale, due to the relatively small size of these elements compared to entire Lake Marker. In addition, the pit and channel could also have positive effects such as increased fish overwinter and increased algae growth due to a local reduction in turbidity. The pilot Sea bed landscaping tested the hypothesis that local landscaping of sand ridges helps to accelerate recolonization after dredging works and promote higher biodiversity.
Construction
The construction of the first phase of Marker Wadden commenced in 2016 and has been finished in 2020. The construction includes placement of cohesive and non-cohesive sediments that originate from the Lake Marker ecosystem, construction of harbor jetties, creation of beaches, dunes and marsh area. The construction of the first islands groups can be divided in seven phases (Arcadis & Boskalis, 2016).
Materials (Boskalis 2019):
Armour rock 100.000 ton
Sand 12.500.000 m3
              Clay, silt, peat    15.500.000 m3
| | | |
| --- | --- | --- |
| | Schematization | Description |
| 0 | | The construction of Marker Wadden consists of four modules: A, B, C and D. |
| 1 | | Creation of perimeter of module A and B and in parallel excavation of the sand pit and the sedimentation channel. |
| 2 | | Infilling of modules A and B till a level of -2m NAP and settling of sediments. |
| 3 | | 3a. Construction of main dams (sand and riprap section). 3b. Construction of secondary dams within modules A and B. 3c. Construction of recreational port. 3d. Extension southern sand dam and creation of perimeter of module C. |
| 4 | | 4a. Second and third infilling round of modules A and B. 4b. Construction of interconnecting dams 4c. Infilling of module C. |
| 5 | | 5a. Consolidation of marshlands of module A and B. 5b. Construction of secondary dams in module C. |
| 6 | | 6a. Shear off of protecting dams at rear side of modules A and B (red). 6b. Construction of reef of poles 6c. Construction of recreational elements (watch tower, pedestrian paths, finalization of port). |
| 7 | | 7a. Development of habitats for birds on module A and B. 7b. Second filling of module C. *Further development of modules C and D not included in this phasing overview. |
The marsh areas were created by in-filling of the compartments. This filling process starts with supplementing sand within the entire compartment from central spray pontoons (Figure X (left)). Next, Holocene material (mix of sand and mud) has been added on top of the earlier placed sand layer via pipes located at one side of the compartment (Figure X middle). The heavier sand particles settled in proximity of the dumping location, while the fine sediment settled further away. Spillways were created to discharge excess water in a controlled manner and thereby limiting local increased turbidity levels. Active drainage and the implementation of reed sped up the ripening process (see for process details the in-depth concept page: Clay ripening).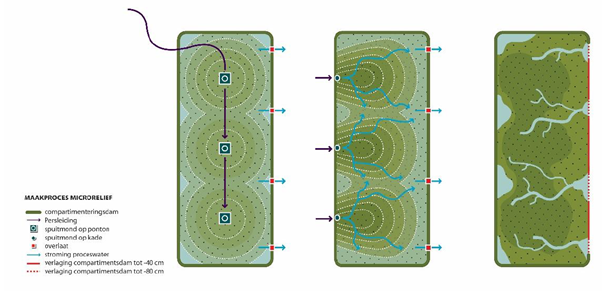 Construction monitoring
Prior to construction, reference turbidity measurements have been taken. During execution turbidity levels have been monitored at four selected points around the construction area. Additional action would be taken, in case of a turbidity level increase of at least 200 mg/l in comparison to the background concentration. In addition, bed samples have been taken to get insight in the mud layer thickness and characteristics (Deltares, 2016).
Operation and maintenance
After construction of the first phase of Marker Wadden (2020), Natuurmonumenten remains responsible as leaseholder for maintenance and exploitation of the site. RWS is among others responsible for the water quality and water safety of the Lake Marker. The contractor Boskalis has a maintenance obligation for the shores of Marker Wadden until 2030. Especially after storm erosion, maintenance of the sandy shores may be necessary.
The largest island of Marker Wadden is accessible for visitors since September 2018. Visitors can access the island via a ferry connection from the Bataviahaven in Lelystad or enter Marker Wadden port with their own vessel. Visitors come mainly to the island for walking and bird watching. Activities such as cycling, kitesurfing, windsurfing are prohibited.  The other islands are inaccessible for public to minimize disturbance.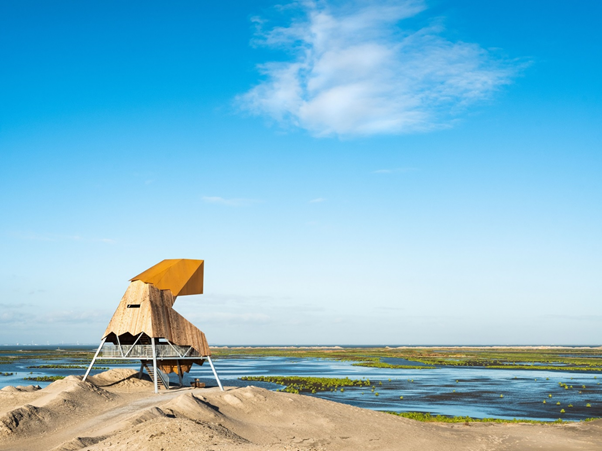 KIMA Lessons learned
The objective of the Knowledge Innovation Marker Wadden (KIMA) program is developing and sharing knowledge on building with mud, sandy shores, ecology and governance. The knowledge program commenced in 2017 and runs till 2022 (https://kennismarkerwadden.nl/). The generated knowledge during the evaluation of the first phase of Marker Wadden is used as input for the second phase. In addition, the knowledge is universal and could be applied in other regions that need ecosystem restoration and experience similar issues due to excess fine sediment concentrations.
KIMA is organized along four pillars: Applied research, fundamental research, a monitoring & evaluation programme and a living lab. Each of these pillars includes three disciplinary research themes:
Building with mud and sand
Valuable ecosystems
Adaptive governance
At time of writing (early 2021), KIMA research is still running. Hereafter preliminary lessons-learned are presented per research line and are based on KIMA (2018, 2019, 2020a, 2020b,2020c) and Deltares (2020).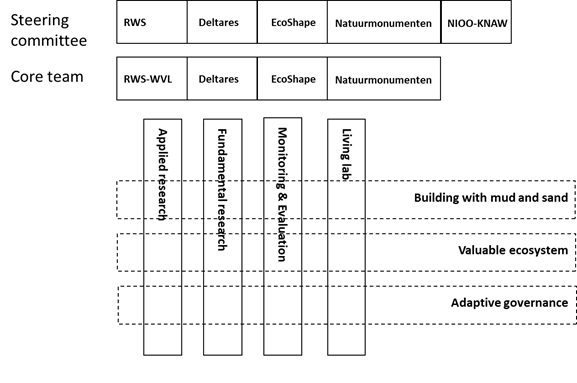 Valuable ecosystems
How do you make an ecosystem with high biodiversity that is valuable for birds? Important preconditions are food supply and breeding habitat. Marker Wadden was designed to increase food supply and provide breeding habitat, to attract bird species. Part of these birds forage on the islands, others will feed at larger distances on Lake Markermeer or beyond. The research is focused on several elements:
The feasibility of developing and maintaining a nutrient rich marsh
Developments of bird populations on Marker Wadden
Role of benthic fauna for increased productivity
Effect of Marker Wadden on fish production and food availability to fish-eating birds
Effects of Marker Wadden on water quality and production in Lake Markermeer
Preliminary results
The feasibility of developing and maintaining a nutrient rich marsh

Primary production and vegetation growth are high due to the use of nutrient rich Holocene mud. It is still unclear whether productivity will remain local or that exchange between Marker Wadden compartments and the lake will take place.

Controlling water levels in the compartments helps to steer vegetation development towards the desired marsh vegetation. In addition, it is found that consolidation of clay and damage by goose can negatively affect growth of reed.

Aquatic plants have been observed in the port basin and the marsh compartments in the MWTL monitoring campaign of 2019, and between the islands in a more detailed campaign in 2020, when 12 species of submerged macrophytes were found, albeit in low densities still. First observations indicate the presence of a wide variety of insects especially beetles.

Developments of bird populations on Marker Wadden

Large numbers of birds have been attracted to Marker Wadden since the start of construction. Breeding populations of Common Tern, Avocet and more than 40 other species have been established.

Breeding success of Common Tern and Avocet was specifically studied and turned out to be high.

Tens of thousands of migrant and wintering birds (e.g. Teals, Shovelers, Black Terns) make use of the archipelago.

Role of benthic fauna for increased productivity

A survey of benthic fauna of the entire lake has been carried out at the start of construction of Marker Wadden in 2016. Spatial patterns of different communities have been shown for the first time, with indications of bioturbation and in addition the distribution of concentrations of filamentous Sulphur bacteria.

Between 2018 and 2020 samples of benthic fauna have been taken around the islands to study developments since 2016. Conclusive results can be expected in 2022.

Effect of Marker Wadden on fish production and food availability to fish-eating birds

The new habitats around the islands and the developing aquatic vegetations provide shelter to young fish. Over 20 fish species have been observed in and around Marker Wadden. Deeper pits act as refuge area.

Common Terns breeding on the islands have been found to forage over large parts of Lake Markermeer and also the southern part of Lake IJsselmeer, often in relation to activities of fishermen.

Several larger species of birds, like Cormorants and Spoonbills, have been shown to use Marker Wadden in combination with other areas, like Trintelzand and Oostvaardersplassen, flying back and forth to find food and shelter.

Effects of Marker Wadden on water quality and production in Lake Markermeer

Preliminary results indicate a higher ratio chlorophyll/SPM in the sheltered areas of Lake Markermeer like Hoornsche Hop. In addition, the composition of phytoplankton deviates, with a large share of flagellate algae. Due to ongoing construction and maintenance around Marker Wadden itself, however, sheltered areas have not yet fully established.

In contrast, the central part of Lake Markermeer has been influenced greatly by suspended sediments linked to construction. Monitoring using earth observation data in combination with silt modelling has revealed plumes of suspended silt between Marker Wadden and the island of Marken.

In this area elevated phosphorus concentrations were found as well as increased oxygen consumption in the sediment, indications of increased activity of benthic flora and fauna. High densities (mats) of filamentous sulphur bacteria were also found here, as well as an increase of Quagga mussel densities between the surveys of 2016 and 2019.

In addition to these indications of (temporarily) increased productivity in the lake during construction of the islands, direct monitoring of primary production started in 2020 across the lake, and in more detail (continuously) at Marker Wadden. Results are expected in 2022.
Building with mud and sand
How do you make a stable foundation based on mud and sand, as starting point for high nature values? This research theme investigates the composition of mud and how different mechanisms of construction affect the consolidation and strength of the mud layer. The research is focused on four elements:
Infilling of the sedimentation channel and borrowing pits
Development of mud compartments
Effect of Marker Wadden on sediment dynamics in the Lake Marker
The sandy cross-shore profiles of Marker Wadden
Preliminary results
Infilling of the sedimentation channel and borrowing pits

The observed infilling rate is ~ 40 cm/year in the sedimentation channel and ~ 80 cm/year in the borrowing pits. However, the bulk density of these mud deposits is low (~ 1100 kg/m3, solids content ~16.5%).

Per year ~200 kT of mud is trapped (including mud deposition at the lee side of Marker Wadden ~ few cm/year).

This may contribute to the maintenance of the salt marshes (e.g. compensation of settlement) but is insufficient for the further extension of Marker Wadden.

Development of mud compartments

Crust formation is fast after drainage and exposure to air.

Coarser material with a higher density is found near the discharge locations. Also, vertical profiles show strong gradients in density and grain size at some locations.

Because of the large variability of the mud properties and subsurface filling and refilling to realize design sediment surface levels is an adaptive process. Predictive computations prior to filling on consolidation and settlement after filling are not reliable everywhere and require verification based on field observations.

Effect of Marker Wadden on sediment dynamics in the Lake Marker

Two effects of Marker Wadden on suspended sediment: Less resuspension at lee side of Marker Wadden; and more sedimentation in borrow pits, sedimentation channel and at lee side .

Extraction of ~200 kT/year is significant term in sediment balance.

Significant reduction is expected near Marker Wadden, smaller effects at large scale.

Sediment plumes due to construction works may temporarily increase local turbidity.

It is still too early to make firm statements on the effect of Marker Wadden on turbidity levels in the Lake Marker.

The sandy cross-shore profiles of Marker Wadden dams

The dams made of sand are mainly dependent on the water level and local wave conditions.
Adaptive governance
Marker Wadden is not only innovative in the use of soft sediment and stimulating ecosystem development, but also with regard to the governance setting. Cooperation between actors, financial construction and contracts have played an important role in realizing this project. This research theme will therefor focus on the following elements:
Cooperation, adaptivity and continuity in the project Marker Wadden
Financing and procurement mechanisms
Participatory monitoring
Influence of Marker Wadden on the Dutch knowledge position
Lessons-learned from KIMA
Preliminary results
Cooperation, adaptivity and continuity in the project Marker Wadden
Collaboration
Good collaboration requires close collaboration between the team members from all parties involved. The Marker Wadden project team consisted of a small and solid team of experts that thought outside the box and dared to take action.

Project team Marker Wadden and the contractor pursued the same goal (creation of a set of high-quality nature islands) that gave them confidence in the collaboration and resulted that money was spent on quality instead of solely ticking boxes in the terms of references.

Early involvement of knowledge parties can facilitate synergy between knowledge and execution aspects in innovative project such as Marker Wadden.

Alignment of project goals and policy goals helped to give the project a kickstart and resulted in a relatively short initiation phase and leverage funding.
Adaptivity
Adaptivity allowed the project to steer in time. However, for some of the organizations this meant that they could not work conform the way of working they were used to.
Continuity
Departments of the parties responsible for operation and maintenance should be involved at an early stage to ensure a smooth transition and to continue the opportunity-oriented approach of Marker Wadden.

Initiatives from private parties have a higher success rate if they address a wide range of issues such as ecological issues and social issues.

Financing and procurement mechanisms

It is important to establish clarification on the desired and expected services delivered by the project in advance

Clear hierarchy in service delivery in order to understand trade-offs and prevent conflicting interests

Understanding the uncertainties that affect the desired services is important for the proper allocation of risk to the public, private and operational partners.

Participatory monitoring

Results expected end 2021.

Influence of Marker Wadden on the Dutch knowledge position

Results expected end 2021.

Lessons-learned from KIMA

Results expected end 2021.
References
Weblinks
Natuurmonumenten (2020). Marker Wadden. Retrieved 2 December 2020 from https://www.natuurmonumenten.nl/projecten/marker-wadden/projectbeschrijving
Vista (2021). https://vista.nl/mies_portfolio/marker-wadden/
Publicaties
Beumer, V., Niel, L., Lenselink, G., Boer, E. de, Meerendonk, W. van de, & Lange, M. de. (2017). Benutten van natuurlijk kapitaal; Theoretische verkenning met gebruik van de casus Marker Wadden.
Brenk, S. van den (2002), Sedimentatieonderzoek vaargeulen, Rijkswaterstaat, Directie IJsselmeergebeid, december 2002.
Boskalis (2019). Project sheet aanleg Marker Wadden
Deltares (2008). Analyse scenarioberekeningen Markermeer. Deltares rapport Q4613
Deltares (2009). Simulaties hydrodynamica & slibtransport scenario's Toekomstbeeld Markermeer. Deltares rapport 1200097.007
Deltares (2016). Resultaten 0 monitoring slibbodem Marker Wadden
Deltares (2020). Marker Wadden: van pilot naar opschaling (voorlopig rapport versie 26 juni 2020).
Duijn, M., Van Buuren, A., Klijn, E. H., & Minkman, E. (2018). Marker Wadden – bestuurskundige beelden over een complex waterbouwkundig project.
KIMA 2019 Jaarrapportage Kennis en Innovatieprogramma Marker Wadden 2018 Publieksversie
KIMA (2018). Leren van Marker Wadden – Over het speelveld en governance opgaven.
KIMA (2020a). Mid Term Review Kennis en Innovatieproramma Marker Wadden
KIMA (2020b). Een uniek project, een unieke samenwerking. De governance van Marker Wadden ontleed; Rapportage MEP Adaptieve Governance Marker Wadden.
KIMA (2020c). Presentaties KIMA congres 1 juli 2020.
Lenselink, G., Beumer, V., & Wit, S. de. (2014). Kansen zien, kansen pakken; Verkenning kennis- en innovatieprogramma Eerste Fase Marker Wadden.
Ministerie van Infrastructuur en Milieu & Infrastructuur van Economische Zaken. (2014). Deltaprogramma IJsselmeergebied: Synthesedocument.
Noordhuis, R., Harezlak, V., Boderie, P., & Genseberger, M. (2017). Waterbeheer en ecologische draagkracht in het Markermeer-IJmeer – Een eerste verkenning aan de hand van hydrologie en nutrienten. Delft.
Noordhuis, R., Groot, S., Dionisio Pires, M., & Maarse, M. (2014). Wetenschappelijk eindadvies ANT-IJsselmeergebied – Vijf jaar studie naar kansen voor het ecosysteem van het IJsselmeer, Markermeer en IJmeer met het oog op de Natura-2000 doelen. Delft.
Rijkswaterstaat (2014). Milieueffectenrapport Eerste Fase Marker Wadden.
Rijkswaterstaat (2019). Informatieblad Marker Wadden tweede fase. April 2019
Royal HaskoningDHV (2010). Initiele bureaustudie slib DeelI luwtestructuren en Deel II Verdiepingen. Augustus 2010.
Royal HaskoningDHV (2015). Update Inventarisatie mogelijkheden Locatie en Omvang Verdiepingen. September 2015.
Witteveen+Bos (2004). Transparante Markermeren – Als ecologische afronding van de Zuiderzee werken, Witteveen en Bos and Boskalis BV Hydrodynamic.