Overview
Location: Delfzijl, Ems-Dollard estuary (NL)
Date: 2017-2018 (construction), 2018-2020 (monitoring, research)
Involved parties: municipalities of Delfzijl and Eemsmond, Province of Groningen, Rijkswaterstaat, Water authorities Noorderzijlveest and Hunze en Aa's, Groningen Seaports, Groninger landschap, Ecoshape (Wageningen Marine Research, Royal HaskoningDHV, Deltares, Arcadis). Partially financed by the Waddenfonds.
Technology Readiness Level: 9 – actual system proven in operational environment
Environment: Muddy coasts, Rivers & Estuaries, Cities, Ports
Keywords: salt marsh development, suspended sediment, sustainable port, wave protection, land-water boundary.
Building with Nature design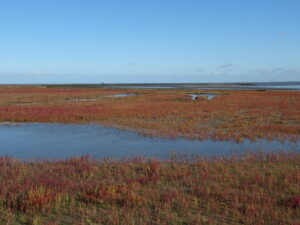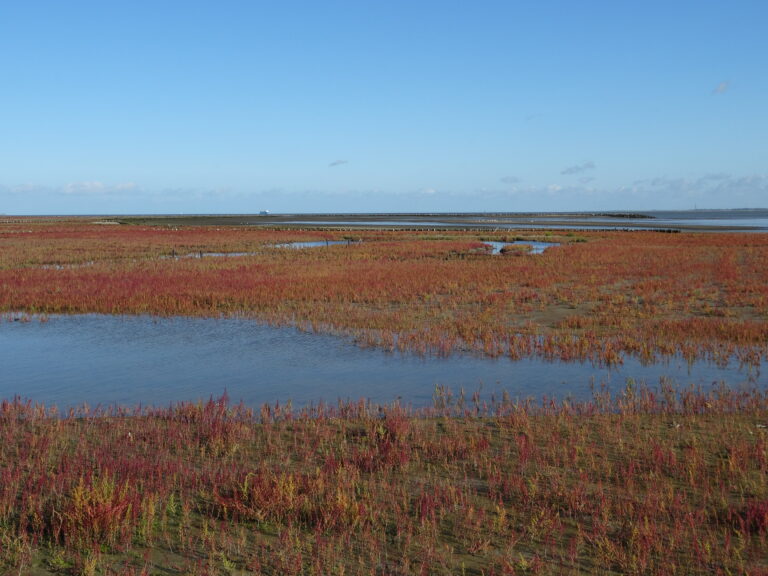 Constructing a salt marsh area creates a gradual land-water boundary with space for flora and fauna, beneficially re-uses dredged sediment and provides a sustainable form of coastal protection as the marsh catches fine sediment and grows with sea level rise.
Traditional design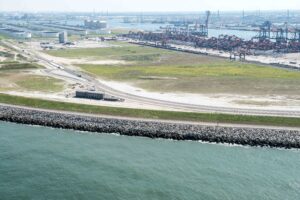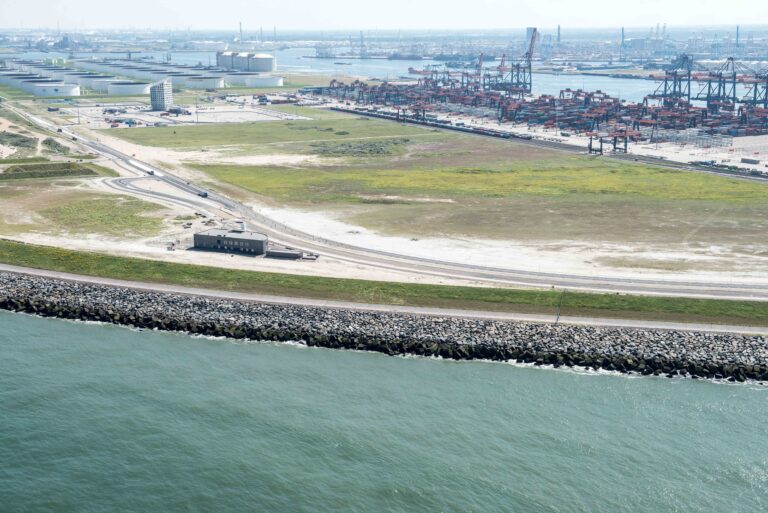 The land-water boundary is abrupt and is not (or to a limited extend) part of the natural system. (Image from https://beeldbank.rws.nl, Rijkswaterstaat / Joop van Houdt)
Salt marshes were constructed along the coast of Delfzijl (Netherlands) as part of the project Marconi Buitendijks. The Marconi Buitendijks project was carried out to reconnect the city centre of Delfzijl to the Ems-Dollard nature reserve. The existing seawall was relocated and reinforced and now forms a connection between the city and the mudflats. In addition, a pioneer salt marsh was constructed along the coast, consisting of a pilot salt marsh of 15 hectares, a bird breeding island and a salt marsh park (city salt marsh) of 13 hectares. The pilot salt marsh is used to develop knowledge about how design and construction affects the development of a man-made salt marsh.
The pilot salt marsh consists of six compartments with different percentages of mud (a mixture of clay and silt with a grain size smaller than 63 μm) in the upper meter of the subsurface. Some of the compartments were seeded with Salicornia procumbens (Long-spiked Glasswort). After construction, the development of the salt marsh was intensively monitored between November 2018 and September 2020. Monitoring focused on morphological development and biodiversity.
Both the practical lessons regarding design, construction and monitoring, and the developed knowledge on morphological and vegetation development can be used worldwide to develop a suitable design, construct and monitor salt marshes and use the salt marshes' ecosystem services.