Overview
NatureCoast is a multidisciplinary research program consisting of 12 PhD's and three Postdocs involving six universities in The Netherlands. The program started in April 2013 and ran until 2018.
The research focused on the Sand Motor, an artificial hook-shaped peninsula close to The Hague. It extends one kilometer seawards and was initially two kilometers wide. It was financed by the Ministry of Infrastructure and Environment and the province of South Holland on the coast near Ter Heijde in 2011.
Objective
The knowledge development within the NatureCoast project focuses on six different disciplines: coastal safety, dune formation, marine ecology, terrestrial ecology and governance. Each discipline is covered by two PhDs at two different universities. A key role of the three postdocs is the integration between the six science projects, striving to develop interdisciplinary knowledge obtained at the Sand Motor. The post-docs also investigate the feasibility of such a unique 'Building with Nature' concept worldwide given the knowledge developed at the Sand Motor, but also incorporating the knowledge gained from previous coastal development projects along the Dutch coast.
Approach
The program consists of six scientific research projects (S1-6; see Table). Each of the 6 research projects looks at the Sand Motor from a specific discipline (ranging from 'coastal safety' to 'governance') and addresses different aspects. Each project is executed by two collaborating PhDs from different research groups. The subjects of the PhD studies are summarized in the table below (STW, 2012).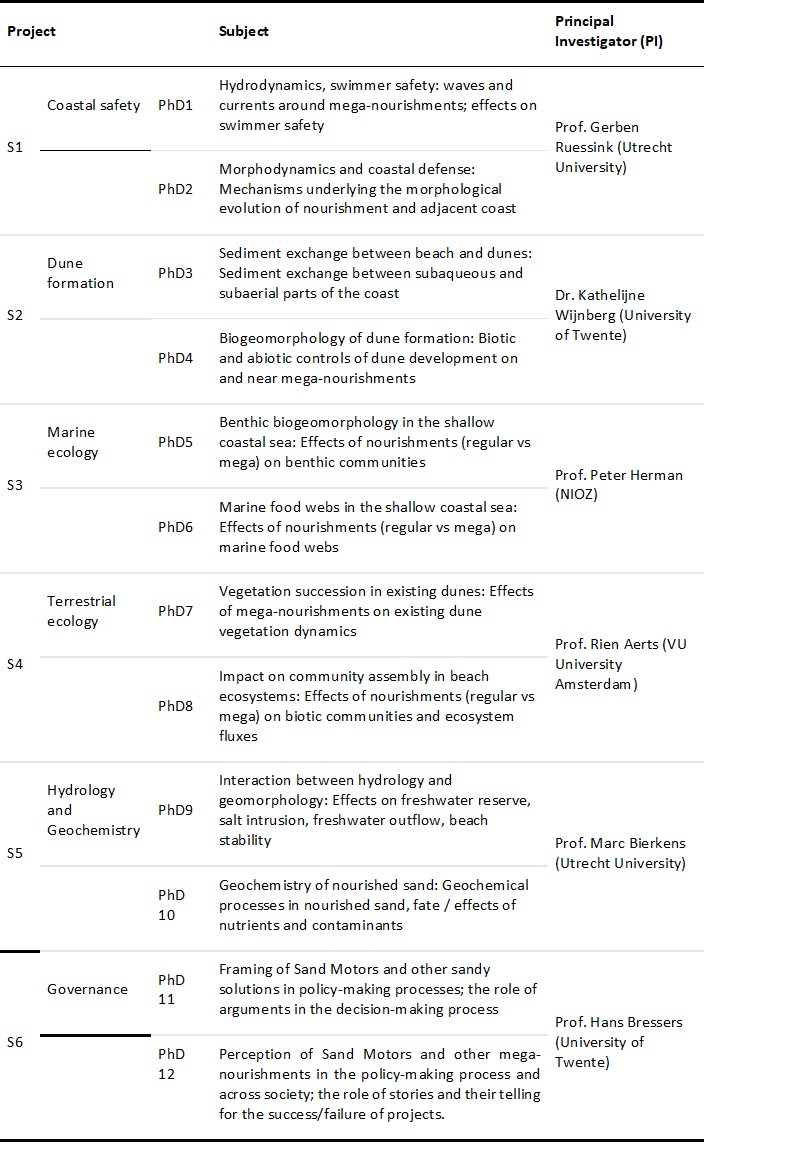 An integration project ("I") carried out by three post-doctoral researchers aimed at bringing together the research done in the scientific research projects. Each post-doctoral researcher addressed an interdisciplinary scientific challenge. They jointly stimulated the coherence of the scientific research projects. In addition, the post-docs formed the interface between the user community and the PhD community, aiming to bridge the gap between fundamental research and practice-inspired user needs.
Partners
The NatureCoast consortium consisted of six universities (Delft, Utrecht, Twente, Leiden, Wageningen and NIOZ), but also of end-users like knowledge institutes Deltares and Imares, Province South-Holland, Rijkswaterstaat, Natuurmonumenten, consultants (RHDHV, Arcadis, Witteveen & Bos) and dredging companies Boskalis and Van Oord. The research was funded by NWO-TTW.
Publication
The research findings are comprehensively described in this illustrated book.