Get Started
The expected worldwide increase in the demand for marine sand due to economic growth and urbanisation as well as the long-term threats of climate change call for innovative approaches for sand extraction activities. Marine sand extraction traditionally focuses on minimizing environmental impact and quick recovery of seabed sediment composition and benthic assemblages. With large-scale extraction, this conservative approach can lead to constraining mitigation measures. Moreover, the potential of ecological development, cost reduction and a more efficient use of scarce space are not considered.
This Concept provides guidance for design, organisation and realisation of ecosystem-based landscaped sand extraction sites, based on research in the Maasvlakte 2 sand extraction site in the North Sea. Ecosystem-based design rules for future sand extraction sites are developed aimed at optimising the balance between impacted surface area, sand yield, costs and ecological effects.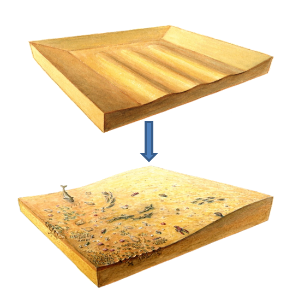 Ecological landscaping of sand extraction sites involves the realisation of seabed level gradients and other morphological features in newly dredged sites. The overall aim is to make the sand extraction site attractive for a variety of macrozoobenthic species that in turn attract demersal fish, mammals and birds. This is done by creating different bedforms and/or combinations of sediment characteristics which provides ideal settlement and habitat circumstances for a larger variety of species. Due to this landscaping, the re-colonization of the mined pit is presumably faster and results in a higher biodiversity than in a traditionally dredged sand extraction site.
In the Netherlands, the demand for marine sand is still increasing. In 2015, a total volume of 26 million m3 of sand was extracted from the Dutch Continental Shelf for coastal nourishment. Due to the expected sea level rise, the demand for sand to maintain the Dutch coast with nourishments may increase from 12 to 40 – 85 million m3. To safeguard the supply of sand, new sand extraction strategies are needed and therefore ecosystem-based design rules, which optimise the balance between impacted surface area, sand yield, costs and ecological effects are developed.
Ecological research on tidal sand ridges and sand waves showed that there are differences in the macrozoobenthic species composition present on the troughs, slopes and crests. Ecosystem-based sand extraction can create bedforms of a similar scale as the naturally occurring sand ridges in the area. This approach may result in a higher biodiversity and biomass in the sand extraction site after dredging. An ecological design of an extraction area may help to increase the potential post-dredging value of the area and opportunities can be taken to improve and add to the overall sustainability of the sand extraction project.


BwN dimension
To safeguard the supply of sand with sand extraction strategies based on ecosystem-based design rules which optimise the balance between impacted surface area, sand yield, costs and ecological effects. Ecosystem-based landscaping will be used to boost habitat heterogeneity and biodiversity.
Usage skills
To properly design a sand extraction scheme knowledge is required of both the hydrological and morphological behaviour of the area under consideration as well of the ecological response of marine organism to the changes in the seabed landscape. For this purpose, data of the local system and from comparable regions need to be collected and statistically analysed.
When specific bedforms are desired, knowledge of construction options and possible complications are required during the preparation phase of the project, combined with monitoring and adaptive management options.
Advantages
It has been found that ecosystem-based landscaping will help to promote higher biodiversity compared to the traditional dredging approach.
Enhancing biodiversity and overall sustainability of the sand extraction project may facilitate social and political acceptance and thus accelerating licensing procedures and project realization.
Disadvantages
The practical feasibility of the design sand extraction sites will be a prerequisite for success.
The ecologically most favourable set-up and orientation of ecosystem-based sand bars may imply risks to the sand extraction project and productivity.
Ecosystem-based landscaping might introduce additional costs to the sand extraction project, although it has been shown that with proper design and execution this will be kept to a minimum.
Application of ecosystem-based landscaping in sand extraction sites implies the transformation of existing habitat into a new habitat which is not embedded in current legislation.