How to Use
No special skills are required, but note that stakeholder management is primarily a social skill. Previous experience in, for example, negotiations can be beneficial. The tool is especially helpful for managers and teams dealing with projects with BwN-perspectives. The tool can be used in the setting of a regular project meeting. Clearly, good social skills are essential to an effective and constructive interaction with stakeholders.
Phase plan process
Stakeholder identification
Stakeholder assessment
Prioritise and manage the stakeholders
Position to BwN
Advice and recommendations
1. Phased plan process
Because stakeholders may change their position in the course of a project, it is essential to refresh the analysis from time to time: stakeholder analysis is an iterative process. A broad first analysis is meant to develop strategies towards stakeholders. Interaction with stakeholders further down the process offers opportunities to calibrate estimates. Reflection is needed when entering a new project phase, preferably based on a new round of stakeholder consultation.
2. Stakeholder identification
Deciding which stakeholders should be involved in a project development process is a strategic choice. In general, people should be involved if they have information that cannot be gained otherwise, or if their participation is necessary to assure successful implementation of the initiative (Bryson 2004:27). Stakeholders are normally identified through structured brainstorming sessions by the project initiators.
3. Stakeholder assessment
In participation processes, a large number of stakeholders can be present. Not all of these stakeholders have the same attitude towards the project, nor are they all of the same importance to its success. Therefore, it is important to identify the role different stakeholders may play in the project development, so specific management strategies can be utilised for their involvement, often at different instances in the process.
Stakeholder analysis can easily be done using stakeholder matrices, such as power versus interest (Eden and Ackermann, 1988; reproduced below) or problem-frame versus stakeholder (Anderson, Bryson and Crosby 1999; Bryson 2004). When starting a project, keep in mind that its development takes places in a world that is not a blank sheet. The physical environment is in many cases fully developed (although continuously further developing) and the social systems is filled with problems, issues and opportunities. Any development will therefore touch upon pre-existing issues and interests. These are important to know when dealing with individuals and organisations that may influence the project development. Interests should be defined very broadly: anything impacting the person/ organisation now or possibly in the future, depending on what the stakeholder considers to be of importance.
Whilst every stakeholder has interests, not everyone of them has the power to change or prevent project development or relevant decision making. Power can come in a variety of forms, such as political decision-making power, legal power, access to specific resources, or the power to block certain developments through media access. Power can be seen as a form of influence on the decision-making and implementation process. Therefore, it is important to assess the power of stakeholders in an early stage of the process, in order to get support from powerful actors, but also to be aware of powerful potential adversaries.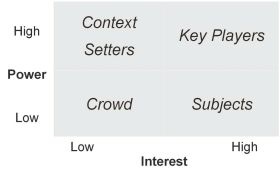 Note that influencing the process is not necessarily negative, in the sense of hindering or blocking a particular development. A development can also be enriched by stakeholder input. Stakeholders often have access to specific relevant knowledge, perspectives and resources that contribute to better ideas and better designs. Thus they may enhance the quality of the design and, consequently, the chance of successful implementation. By combining interest and power, we can map each actor in one of four positions in a matrix and prioritise them according to their importance (see figure).
4. Prioritise and manage the stakeholders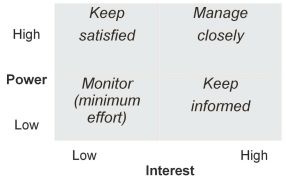 Not all stakeholders are equally concerned with the project. Therefore, it is important to categorise the stakeholders and adopt different management strategies for each category. The position in the interest-power matrix can be useful to decide which action to take (see figure). Especially the identification of stakeholders that might become key players is crucial to project success. They have a high political interest and are powerful enough to stop the project completely – or make sure that it succeeds.
Key Players: These are stakeholders with high power and high interest. This can relate to the actor's own interest, as well as the project developer's interest in what the actor can add to the project in terms of relevant knowledge, perspectives and resources. These are the people to fully and intensively engage in the processes and to focus the most effort on. They should be actively involved in the project development and consulted regularly.
Context Setters: These are stakeholders with high power but less interest. Their power provides part of the context in which a development is pursued. Spend enough effort to keep them satisfied, but not so much that it becomes counterproductive. When possible, try to increase their level of interest.
Subjects: These are stakeholders with low power but high stakes. Make sure to adequately inform them and to avoid major problems. Often these people can be helpful with the details of the project.
Crowd: These are stakeholders with low power and low interest. These should be monitored and informed passively. Do not bother them with excessive communication. When possible, try to increase their level of interest.
5. Position to BwN
Once the stakeholders that are relevant to the project have been identified and their power and interests have been determined, it becomes important to also include their position regarding the development itself. This position can be positive, negative or indifferent. Actors with a positive attitude towards to the project are obvious partners, those with a negative attitude are likely to become the adversaries. Indifferent actors should be actively persuaded, but note that both positively and negatively positioned actors will try to do so.
The position with respect to Building with Nature is influenced by many forces and factors. The most important is the dynamic nature of Building with Nature, which actively seeks to change a system for the better. Not all actors are inclined to think in this 'dynamic mode'. Some may be more inclined to conservation than to development, especially when it comes to the ecosystem. Nature conservation and nature development are different and sometimes even conflicting mindsets. Economic interests are mostly of second-order importance to the position actors take. Only when their economic interest is direct and immediate, they will be inclined to take a position in favour or against a project.
6. Advice and recommendations
Use stakeholder analysis for developing effective stakeholder management strategies: once power, interests and position have been determined, these can be combined to target specific actors in a strategic manner. The most important goal is to identify the stakeholders that may contribute to a successful project implementation. The key objective is to increase the number of actively involved  powerful stakeholders in favour of change, while decreasing the number opposed to change. A variety of strategies exist to change the position of actors. Many of these are documented in the BwN guideline section Governance – Stakeholder network management.