Practical Applications
The following projects are two practical examples:
Salt marsh development Marconi Delfzijl;
Mud Motor in Port of Harlingen.
Both Delfzijl and Harlingen are harbour cities situated in the north of the Netherlands.
Salt marsh development Marconi, Delfzijl (NL)
At the far northeast coast of the Netherlands, salt marshes are developed with sediment from the surroundings. At this test site EcoShape acquired knowledge about the successful development of natural salt marshes. The aim is to investigate the best way to restore salt marshes by reusing sediment, while developing nature that contributes to the water quality, ecology, coastal defences and the attractiveness of the coast.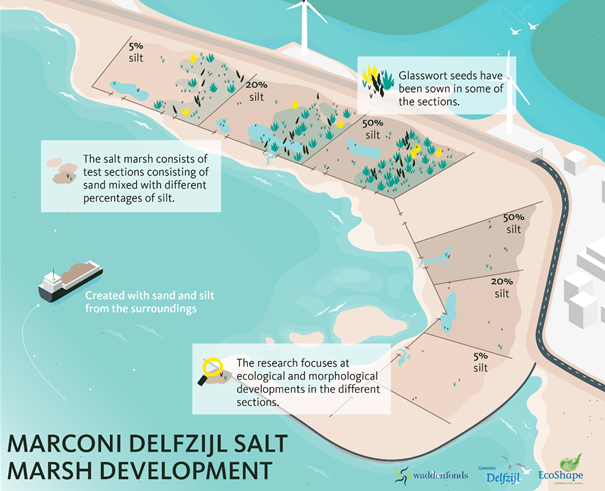 Mud Motor in Port of Harlingen, Harlingen-Koehoal (NL)
The Mud Motor project looks at the potential for enhancing salt marsh development by making optimal use of the sediment transportation capacity of ambient flows.
Approximately 1.3 million m³ of mainly fine sediment is dredged annually from the harbour basins in the Port of Harlingen (NL) to maintain navigability. The dredged sediment is deposited in a nearby area and from there, a lot of dredged sediment flow back into the port relatively quickly. Therefore, an innovative approach to sediment management was proposed: deposit the dredged sediment further north of Harlingen and let natural processes spread the sediment to nearby salt marshes.
This way, the Mud Motor is expected to generate three beneficial effects:
less recirculation towards the harbour, and therefore less maintenance dredging;
promotion of the growth and stability of salt marshes, improving the Wadden Sea ecosystem;
stabilisation of the foreshore of the dikes, and therefore less maintenance work on the dike.