How to Use
Guidence is presented below to determine the feasibility and design for enriched revetments. As a first step of the design process an analysis of the planned works and its bordering ecosystem is needed. Based on conceptual design principles a technical design can be realized and budgeted.
Pre-feasibility phase
Discussion with client on details of civil engineering design and specification of ecological and recreational potential;
Analysis of local ecosystem biodiversity of hard substrate species;
Analysis of physical forcing factors and limiting design criteria as parameters and boundary criteria for ecologically enhanced design. Wave exposure and siltation risk are critical design factors;
Analysis of surrounding ecosystem and identification of possible interactions and reinforcements. In the Netherlands Eastern Scheldt case the value of the diverse hard substrate community is already established. Maintaining this values is a requirement for dike reconstruction in the Eastern Scheldt;
Discussion with client on selection of suitable dike sections, depending on planning;
Pre-design, valuation and costing of ecologically enhanced structures and presentation to the client;
Analysis of the physical aspects of the water system and the dike section (foreshore and intertidal morphology, wave conditions, shape of the dike and the toe);
Consideration of the possible interests involved in the area (recreational activities such as scuba diving, commercial fishing etc.);
Selection of most promising eco-structure. In the Eastern Scheldt case focus was put on keeping the water at the dike toe and provide suitable substrate for attachment of macro-algae.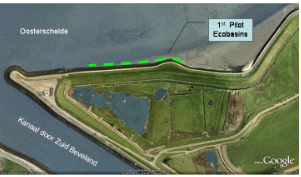 Feasibility phase
Technical design of most promising eco-structure within overall civil engineering planning and requirements:
Small scale field trial;
Setup of monitoring and maintenance plans (if required, this is a necessity in the case of pilots);
General observations/experiences: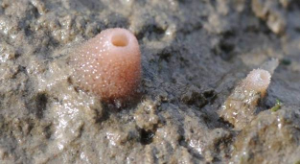 Project phase
Assessment of project implementation by biological expertise
Execution of the project
Evaluation of ecological development through monitoring during 3 consecutive years by biological expertise; especially for pilot like enterprises
Project Costs
Costs of rich revetment solutions widely differ and there is no standard guideline that indicates costs.